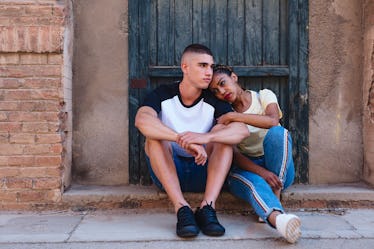 3 Signs You're Afraid Of Settling Down, Even After You've Found The One
You're pretty sure you've found "the one", and all signs point to a happy ending: You're compatible, you're comfortable, and you're madly in love. So, why do you get the nagging sense that you're still afraid of settling down? The thing is, even if you're super satisfied in your current relationship, it's still possible to feel hesitant when it comes to committing to forever.
As it turns out, you're not alone. "As a matchmaker, I see this all the time," says Susan Trombetti, matchmaker and CEO of Exclusive Matchmaking.
Millennials are actually significantly less likely to be married in their 20s than previous generations, according to a 2014 report by The Pew Research Center. Meanwhile, a 2015 Gallup poll found that marriage among 30-somethings dropped 10 percentage points between 2004 and 2014 alone. Gallup researchers have concluded that "young adults are not simply swapping marriage for living together, but rather staying single longer. This doesn't necessarily mean young adults are staying out of relationships, just that they are less likely to be making the more serious commitment associated with moving in together — whether in marriage or not."
Suspect that you may fear commitment? Our gut instincts are powerful, and they are usually trying to tell us something we need to acknowledge in order to grow. Either way, it's important to keep in mind that hesitance to commit doesn't mean there's something wrong with you, or that you aren't capable of having a healthy, lasting relationship. Getting to the bottom of your fears, however, will help you to better understand what steps to take in your current situation. Here are some signs you're scared to settle down — even with the person you suspect may be "the one."