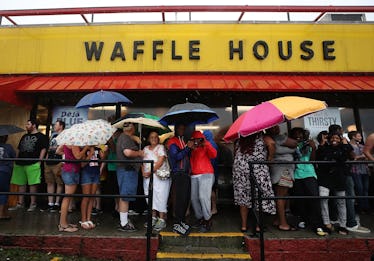 Waffle House's Response To Hurricane Michael Shows How Bad This Storm Was
Mark Wilson/Getty Images News/Getty Images
On Wednesday, Oct. 10, Category 4 Hurricane Michael hit the Florida Panhandle and devastated many homes. Sure, at this point Florida residents are used to a storm every so often, but this natural disaster forced many businesses to close their doors and locals to leave their homes. Now that the storm has passed, some may be wondering are Waffle Houses in Florida open after Hurricane Michael? Floridians, you may have to make breakfast at home for a little while longer.
The popular breakfast chain Waffle House is pretty famous for never closing for a storm, but on the morning of Wednesday, Oct. 10, USA Today reported that the company had shut down 30 restaurants, 22 in Florida and 8 in Georgia in preparation for Hurricane Michael's arrival. However, Waffle House spokesman Pat Warner told USA Today that the company plans to evaluate the damage done to each location, and reopen by Thursday, Oct. 11 if possible.
Some of you may be asking why it's such a big deal that Waffle House closed some restaurants. Well, believe it or not, the Federal Emergency Management Agency (FEMA) actually observes a "Waffle House Index," which tracks if Waffle House restaurants in the area are closed, open, or offering a limited menu in order to gauge how well an area will recover from a storm or hurricane. The chain stays open is to feed natural disaster first responders, and therefore the offered menu is a huge indicator to determine the storm's strength. If the restaurant is open and serving the full menu, the storm is green; if the restaurant is open but serving a limited menu, then it's yellow; if the restaurant is closed entirely then the storm is red. So, once news broke that Waffle Houses would be closing doors at 30 locations, Twitter naturally concluded that Hurricane Michael meant business.
Hurricane Michael blew through the Florida Panhandle during the day of Oct. 10, and then eventually moved towards Georgia and North Carolina as a Category 1 hurricane. At first, no one expected this storm to be as catastrophic as it was, boasting winds over 155 mph and immense flooding all over the panhandle region. According to The New York Times, this particular Florida area hadn't seen a hurricane this bad for at least 100 years, which forced many residents to evacuate their homes.
Hurricane Michael's arrival is the second devastating hurricane to hit the Southeast United States in weeks. During the weekend of Sept. 14, Hurricane Florence, which made landfall as a Category 1 hurricane, devastated the Carolinas by leaving 600,000 people without electricity and thousands of homes completely destroyed. In addition, the BBC reported in September that nearly 32 people had died due to Hurricane Florence, and many were waiting to be rescued from rising waters. Clearly Florence's landfall was one of the most catastrophic in history, but according to Donald Trump it's also the "wettest."
On the night of Tuesday, Sept. 18, Trump shared a video of him on Twitter of discussing the impact of Hurricane Florence, and thanked relief workers for all of their efforts. At first, it looked like this video would be straightforward enough, but things took a turn when Trump started describing the hurricane as the "wettest from the standpoint of water."
Yes, storms are wet. With any luck, he'll have a bit more to say about responding to the disaster that is Michael.
Thankfully, Hurricane Michael has come and gone. Now, with any luck, Floridians can go home and rebuild what was harmed. And then go get some waffles and hash browns.