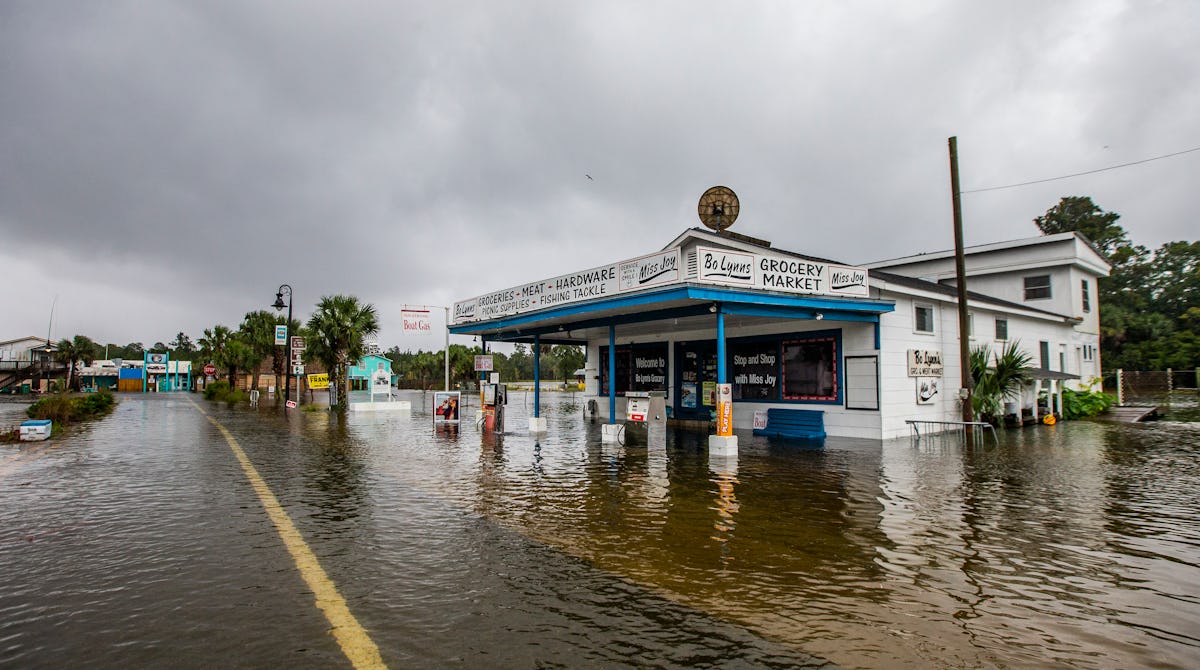 These Photos Of Hurricane Michael In Florida Are Absolutely Terrifying
Mark Wallheiser/Getty Images News/Getty Images
Florida is battling a storm like they've never seen before. Hurricane Michael climbed to a Category 4 storm before crashing down on the Florida Panhandle starting Wednesday, Oct. 10. While updates are still coming in, these photos of Hurricane Michael in Florida are absolutely terrifying.
Hurricane Michael hit the Florida Panhandle with winds of over 155 mph on the afternoon of Wednesday, Oct. 10., and began to cause flooding and property damage, according to The Weather Channel. On Wednesday morning, the storm had already picked up to a Category 4, and was deemed "potentially catastrophic" by the National Hurricane Center (NHC), per The New York Times. The publication also reported that Florida hasn't seen a hurricane this bad in at least the last 100 years. "This is the worst storm that our Florida Panhandle has seen in a century," Gov. Rick Scott told The New York Times. "Hurricane Michael is upon us, and now is the time to seek refuge." But as Hurricane Michael headed towards land on Wednesday morning as a Category 4 storm, authorities warned it was too late to evacuate, advising any remaining residents to shelter in place.
From terribly strong winds to flooded streets and damaged property, these photos are absolutely terrifying and a little hard to look at.
Tons of images and videos from Florida also poured in on social media, showing the effects of the storm in action. One of the worst I've seen comes from Louisville, Kentucky station WDRB's Chief Meteorologist Marc Weinberg, who was on the scene in Panama City. A video shared on Twitter shows forceful winds and vigorous waves crashing onto the shore in Panama City, causing a housing construction to just topple over into neighboring homes like a domino.
Weinberg wasn't the only one to catch the terrifying winds and flooding on video.
There are also reporters on the ground who are working to deliver information to us, even if it means risking their own safety.
Watching the winds thrash through Florida is really scary, but there's one photo that hit hard. David Ovalle, a reporter at the Miami Herald, posted a photo on Twitter Wednesday morning of a property owner in Panama City Beach, Randy Simmons, who scribbled his name across his forearm "just in case he needs to be IDed." "You never know what's going to happen," Simmons told Ovalle. "People do die."
The damage Hurricane Michael is causing is devastating, but Florida isn't the only place in a state of emergency. Alabama, Georgia, South Carolina and North Carolina have also declared a state of emergency through their entire state or select counties, according to The Washington Post. It's even worse for South Carolina, which just dealt with Hurricane Florence, which devastated the Carolina coast in September. South Carolina Gov. Henry McMaster said in his order that Hurricane Michael poses "a significant threat" to the state, which is still dealing with floodwaters left by Florence.
You can see by the photos and videos that Hurricane Michael is taking its toll on Florida, and it's so scary. Stay safe out there, everyone.