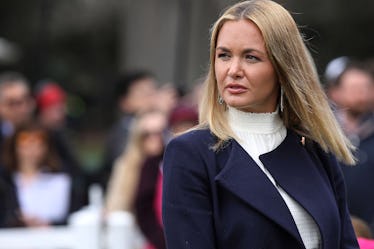 Vanessa & Donald Trump Jr. Are Being Accused Of Doing Something So Petty
Chip Somodevilla/Getty Images News/Getty Images
If you've paid attention, you'll have noticed a theme lately on Page Six, the New York Post's infamous entertainment and gossip section. Scoops about Donald Trump Jr., and his estranged wife Vanessa, have been popping up left and right. The stories have been published so frequently, and in such quick succession, that it's worth wondering: Are Vanessa and Donald Trump Jr. leaking stories about each other?
Are they at least orchestrating it?
It's pretty cynical thought, perhaps, and you'd definitely hope that a marriage wouldn't get this petty. But then again, one would have to be naive about New York media — especially when it comes to stories about the Trump family — to think it's completely out of the realm of possibility for Vanessa and Don Jr. to have what appears to be, as Vanity Fair puts it, an old-fashioned gossip war.
Just consider the timeline.
In a span of weeks, Page Six has published stories about Vanessa Trump's former boyfriends, a supposed recent and massive reported increase in her net worth, and news about Don Jr. reportedly dating a Fox News personality. Plus, all this is happening months after Vanessa Trump filed for divorce.
It all does seem, The Daily Beast's Amy Zimmerman noted, a cruel attempt to drag Vanessa Trump into the spotlight.
"Vanessa is a devoted mother of five amazing children," a spokesperson for Vanessa Trump told the New York Post. "This is nothing more than an attempt to sensationalize over 20-year-old 'stories' from high school for clickbait."
But The Post has also been the source of stories about Don Jr.'s love life, both past and present. In March, Page Six reported that President Donald Trump's eldest son had an alleged affair with singer Aubrey O'Day in 2011. (Representatives of O'Day and Trump Jr. did not reply to Elite Daily's requests for comment at the time the reports of the alleged affair emerged.)
More recently, though, Page Six reported that Trump Jr. is reportedly dating Fox News host Kimberly Guilfoyle. Elite Daily reached out to representatives of Trump Jr. and Guilfoyle about the two reportedly dating, but did not hear back at the time of publication.
Put together, the reports make it seems as if people close to both Vanessa and Donald Trump Jr. are constantly leaking personal information about the two. The question, as always, is who's doing the leaking, and whether the couple is directly involved.
Neither representatives of Vanessa Trump nor Donald Trump Jr. replied to Elite Daily's requests for comment about the recent trend of tabloid stories focused on the couple.
Coincidently, the subject of leaks is one that has always held significance for the Trump family. That goes for President Trump, too, even at the White House. On Monday, May 14, Kellyanne Conway told Fox News that White House staff members leak to the media in order to spite colleagues.
"I will tell you something else that's going on in this White House, but not as badly as it was in the beginning, it's not so much leaking as using the media to shiv each other," Conway said.
Furthermore, reporters familiar with the White House and sources quoted in the media have long said that the leaks are a result of the culture dictated by President Trump.
"If you're mad at the boss, then you don't care if settling the score distracts from his message. That's the culture Trump has bred," said one anonymous Republican strategist close to the White House, according to Politico. "It will never change. Trump has bred a totally dysfunctional and disloyal atmosphere. He is the reason why the White House operates this way. If he's unhappy with it, then he should look in the mirror."
As far as history goes, President Trump's dating life was frequently a subject of reports from New York tabloids. Trump Jr., in that respect, has followed in his dad's footsteps.
Despite the gossip reports, Vanessa and Donald Trump Jr. have managed to give the impression of an amicable relationship. Around Easter, the pair were together at the White House's egg hunt, and Trump Jr. most recently sent this Mother's Day shoutout to Vanessa.
In other words, if there really is a gossip war going on, it belies how cordial both Vanessa and Don Jr. appear to be since their imminent divorce was first reported.