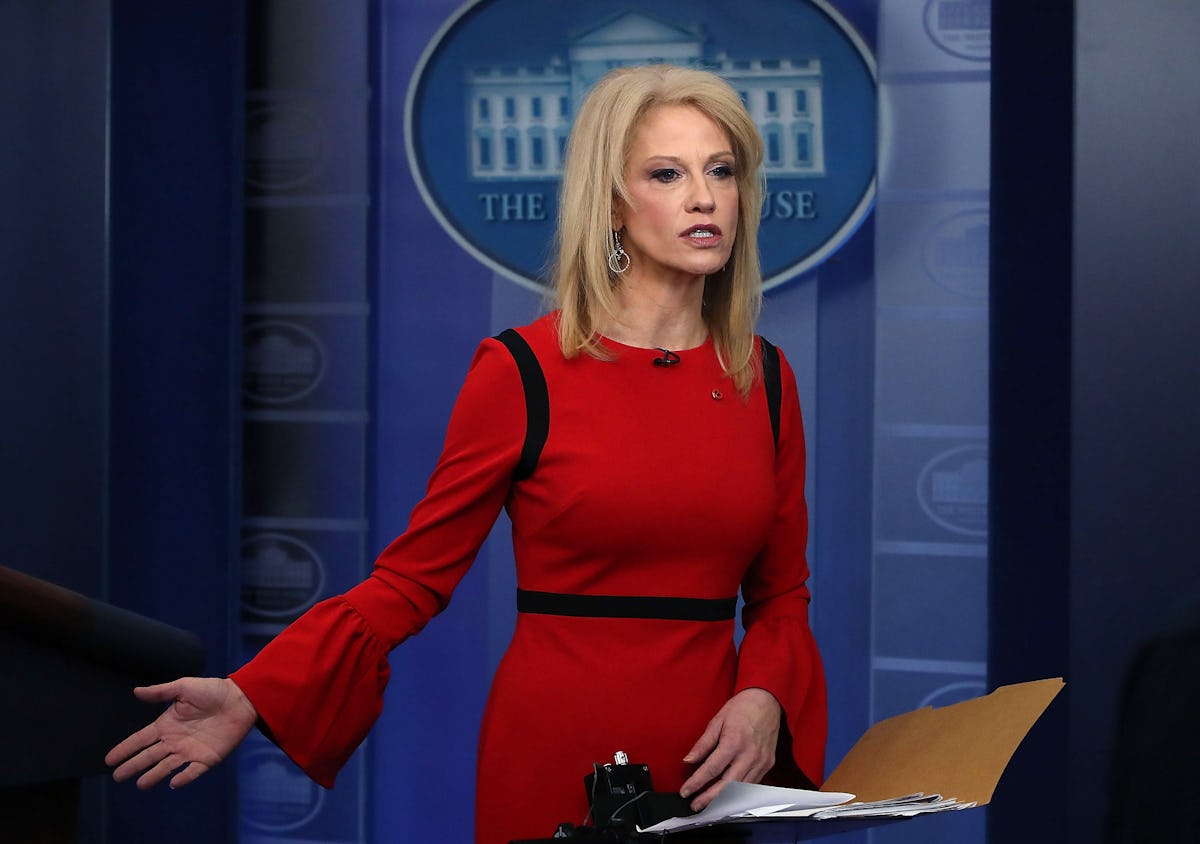 Kellyanne Conway Said This Is Why People In The White House Leak Stories
Mark Wilson/Getty Images News/Getty Images
Details of private conversations that have have been leaked from the White House are once again the subject of headline news. That's nothing new, to be clear, since an unusual amount of stories from unnamed sources inside the President Donald Trump's administration has been a trend practically from the moment he was inaugurated. What is new, however, is that, this time, Kellyanne Conway has been candid in revealing her take on why the White House leaks stories about its own staff members in the first place.
"There are all kinds of leaks," Conway, the counselor to the president, told Fox News on Monday, May 14. "Some leaks exist to hurt colleagues, some leaks exist because they disagree with the policies that are being put forth. But none of them are helpful and I will tell you something else that's going on in this White House, but not as badly as it was in the beginning, it's not so much leaking as using the media to shiv each other."
What Conway said isn't exactly a shock. It does reiterate a point about the White House, which has no shortage of notable figures within the Trump administration that have attacked the media for unflattering stories about the president: the sources of many of those stories are likely White House figures and well-known Trump loyalists, according to... White House figures themselves.
Conway isn't the first Trump ally to say something like this.
In February, The Daily Beast reported that staffers inside the White House had believed Corey Lewandowski, a former Trump campaign manager, was running a smear campaign against Rob Porter, the former White House staffer who resigned shortly after the Daily Mail published a story about alleged physical abuse against two of his ex-wives. (Porter has denied those allegations, while Lewandowski denied The Daily Beast's reporting.)
In July 2017, Anthony Scaramucci, who had a short-lived tenure as the White House's communications director, publicly challenged then-chief of staff Reince Priebus to prove that he's not a leaker.
"When I put out a tweet, and I put Reince's name in the tweet. They're all making the assumption that it's him because journalists know who the leakers are," Scaramucci told The New Yorker. "So, if Reince wants to explain that he's not a leaker, let him do that." (Priebus did not respond to The New Yorker's request for comment on that, and Elite Daily reached out for comment, but did not hear back at time of publication.)
Now, during the latest controversy over leaks — which was sparked after a report that one White House staffer joked about Arizona Senator John McCain's health — more White House staffers are giving details about why and how stories get to the press.
A number of those staffers were quoted anonymously in a perfectly titled Axios story: "White House leakers leak about leaking."
"The most common substantive leaks are the result of someone losing an internal policy debate," one "senior administration official" told Axios. "By leaking the decision, the loser gets one last chance to kill it with blowback from the public, Congress or even the President."
Axios also reported input from former administration officials, with one attributing the frequency of leaks to bad leadership.
"Bad managers almost always breed an unhappy workplace, which ultimately results in pervasive leaking," one former official is quoted as saying. "And there has been plenty of all those things inside this White House. Some people use leaking to settle personal scores, or even worse to attack the President, but for me it was always to make a point about something that I felt was being unjustly ignored by others."
In other words, like Conway says, it sure sounds like people inside the White House use the media to "shiv" each other. That matters for a couple of reasons.
First, it makes the "fake news" charges that much more worthy of a side-eye, since the people who say it the most appear to be sources for news organizations they say it about. Second, it means that a reader of any story about the White House has reason to be skeptical about the motives of the sources quoted.
In the meantime, the president says he'll get right on outing the leakers.
"The so-called leaks coming out of the White House are a massive over exaggeration put out by the Fake News Media in order to make us look as bad as possible," the president tweeted on Monday. "With that being said, leakers are traitors and cowards, and we will find out who they are!"
So the stories are totally fake news and the leakers are real. Got it?