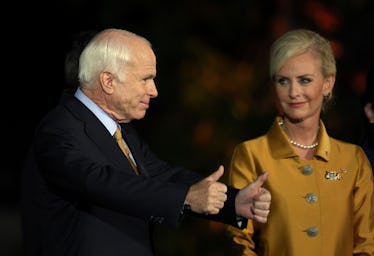 Cindy McCain Responded To A White House Aide's Awful Reported Comments About Her Husband
David McNew/Getty Images News/Getty Images
The wife of Arizona Sen. John McCain has proven she's not about to let anybody get away with trash-talking her family. A White House aide on Thursday reportedly had some harsh words for the senator, who is in his home state while battling brain cancer. And Cindy McCain's response to Kelly Sadler's insensitive remarks was a fitting rebuttal to the aide's reported brutal comment.
The reported remarks by Sadler occurred during a private White House meeting on May 10 to discuss Gina Haspel, currently the deputy director for the CIA, who was nominated by President Donald Trump to become the agency's next director.
On Wednesday, Haspel appeared before the Senate for her confirmation hearing to the position. Though he was in Arizona at the time, McCain, who was held as a prisoner of war during the Vietnam War, made it clear he was opposed to Trump's pick and her controversial role in the agency's history of interrogation practices. Declining to give Haspel a yes vote for the position, McCain said in a statement,
Ms. Haspel's role in overseeing the use of torture by Americans is disturbing. Her refusal to acknowledge torture's immorality is disqualifying. I believe the Senate should exercise its duty of advice and consent and reject this nomination.
Responding to McCain's opposition, Sadler reportedly said, "It doesn't matter, he's dying anyway," an unnamed source told The Hill. Another source verified to The Hill that Sadler had made comments about McCain along those lines, though did not confirm the wording.
The White House, in a statement to the outlet, did not deny that Sadler's comments took place, and said, "We respect Senator McCain's service to our nation and he and his family are in our prayers during this difficult time." Sadler reportedly reached out to daughter Meghan McCain after the meeting to apologize, according to a source.
The senator's wife wasn't about to let Sadler's reported comments slide. "May I remind you my husband has a family, 7 children and 5 grandchildren," McCain tweeted Thursday night, tagging the aide.
The McCain family has received its fair share of bad news from doctors. Sen. McCain was diagnosed with brain cancer in July 2017 after a surgery to remove a blood clot revealed a tumor. The senator had previously battled melanoma, an aggressive form of skin cancer, several times in the past.
In response to the news in July, Meghan McCain released a heartbreaking statement. It read in part, "My love for my father is boundless, and like any daughter I cannot and do not wish to be in a world without him."
McCain is also a war veteran and was tortured while being held hostage in Vietnam from 1967 and 1973. The ongoing abuse left him with injuries and had an impact on the McCain family at large, as Meghan explained on The View on May 10.
The senator has long been wary of Haspel as pick for CIA director. "The torture of detainees in U.S. custody during the last decade was one of the darkest chapters in American history," John McCain tweeted on March 13. "The Senate must do its job in scrutinizing the record & involvement of Gina Haspel in this disgraceful program."
But Sadler's reported comments unfortunately weren't a singular incident. They came after a guest on a Fox Business segment hosted by Chris Payne on Thursday dealt a low blow to the McCains. The guest, former Fox News military analyst Lt. Gen. Thomas McInerny, was speaking about the efficacy of torture in light of the pending approval of Gina Haspel as CIA director. He said, "The fact is, is John McCain, [torture] worked on John. That's why they call him 'Songbird John.'"
Cindy McCain wasn't having any of that, either. Tagging the handles of Fox Business and Payne, she wrote, "Please choose your guest more wisely."
"What @MeghanMcCain and @cindymccain have had to put up with in terms of attacks while their father/husband is battling brain cancer is absolutely disgusting," tweeted reporter Yashar Ali. "I'm glad that most people agree with me and I'm sad that there are too many who don't." As for Sadler's comments, Ali called them "despicable."
Payne tweeted out an explanation and apology later Thursday, saying, "This morning on a show I was hosting, a guest made a very false and derogatory remark about Senator John McCain. At the time, I had the control room in my ear telling me to wrap the segment, and did not hear the comment."
Fox Business, per The Hill, said that after Thursday's incident, it would cease booking McInerney in the future. Sen. McCain has been undergoing treatment since while continuing to serve in office.