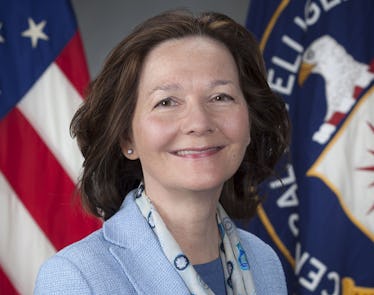 Trump's CIA Director Nominee Threatened To Withdraw & Twitter Is All Over It
Uncredited/AP/REX/Shutterstock
President Donald Trump's pick to lead a critical intelligence role is in jeopardy. And by the looks of it, the person he tapped for the job isn't too keen on it, either. Gina Haspel, Trump's nominee for CIA director, reportedly tried to withdraw her own nomination last Friday, The Washington Post reported Sunday.
"Acting Director Haspel is a highly qualified nominee who has dedicated over three decades of service to her country. Her nomination will not be derailed by partisan critics who side with the ACLU over the CIA on how to keep the American people safe," White House Principal Deputy Press Secretary Raj Shah tells Elite Daily when asked about the reports of her offering to withdraw. The White House did not confirm or deny The Post's report.
Haspel apparently offered to back out of the nomination during a White House meeting on May 4. The idea of backing out was due to the backlash she's gotten over her controversial history with agency's interrogation programs, about which she would almost certainly be grilled during her confirmation hearing. After Haspel expressed the possibility of backing out, according to the Post, two White House aides reportedly rushed to her office for an hours-long discussion to convince her to stay. Trump, who was in Dallas during the drama, apparently phoned Washington and reiterated that he would back Haspel for the position.
As is stands, Haspel is slated to appear before the Senate for a confirmation hearing on Wednesday, May 9. She participated in a practice session on Friday, May 4 to prepare for the hearing, per the Post. With Republicans holding a 51-seat majority in the Senate, Haspel can't afford many GOP defections on her confirmation vote.
On Monday, May 7, Trump took to Twitter to air his grievances.
"My highly respected nominee for CIA Director, Gina Haspel, has come under fire because she was too tough on Terrorists," Trump tweeted. "Think of that, in these very dangerous times, we have the most qualified person, a woman, who Democrats want OUT because she is too tough on terror. Win Gina!"
Trump isn't alone in his high assessment of Haspel. In a tweet Saturday, Sen. Tom Cotton said that Haspel "is beyond qualified to lead the CIA."
"There is no one more qualified to be the first woman to lead the CIA than 30+ year CIA veteran Gina Haspel," tweeted White House Press Secretary Sarah Huckabee Sanders on Friday. "Any Democrat who claims to support women's empowerment and our national security but opposes her nomination is a total hypocrite."
Trump nominated Haspel for the position in March of this year, immediately spurring debate about the controversial figure. Haspel currently serves as deputy director of the CIA, and has been with the agency for more than three decades, per The New York Times. She has been an especially controversial figure as media coverage of her work has been muddled and, at times, incorrectly portrayed.
At the center of the criticism is her role in an interrogation operation in Thailand in 2002 following the Sept. 11 attack, which was shown to use waterboarding and sleep deprivation and other forms of torture among its tactics. Torture has long been illegal under both national and international law. It's unclear exactly what hand Haspel had in the interrogations, but she was on scene in a leadership capacity for about two months of the Thailand prison operation, which carried out extensive and repeated torture of multiple subjects. A Twitter thread by BuzzFeed investigative reporter Jason Leopold maintains that a subsequent investigation into that operation was to meant to vet the efficacy of the program and not to examine any wrongdoing.
Trump officials said, per the Post, that Haspel was never the lead on the interrogation program, rather just an officer who oversaw it, and added that, if nominated, she would oppose any future effort to engage in tortuous techniques.
In a February 2017 report that has since been corrected, ProPublica described Haspel's role in the interrogations as "direct" and maintained that she pushed her boss to mandate the destruction of the tapes. In responding to these allegations, a CIA spokesperson told ProPublica that "Nearly every piece of the reporting that you are seeking comment on is incorrect in whole or in part." The 2017 report was later adjusted after having misrepresented Haspel, confusing her with another chief of base at the Thailand operation.
In an interview with CBS, former CIA Director General Michael Hayden said he supported her confirmation, adding, "there is no way that an agency officer of Gina's character and experience will send CIA officers out there to do this again."
Adding to Haspel's controversy is her role in reportedly burying tapes that contained evidence of the interrogation sessions, the Times reports. Documents about the interrogations, the Post reports, showed Haspel's full support for the agency's actions, but this stands in contrast to other accounts.
An op-ed by former Department of Defense Chief of Staff Jeremy Bash supports Haspel's nomination, holding that she did not make the decision to destroy those tapes and that the tapes did not depict her involvement in the interrogations. Leopold confirms in another tweet that the tapes were ordered destroyed because they depicted unmasked U.S. officials, not necessarily because of any illegality.
One source told NPR that Haspel "did not pressure" the CIA's then-director Jose Rodriguez, who reportedly made the decision to destroy the tapes. Rodriguez told Reuters of the decision in 2012 that he did so to protect his colleagues from the risk of a retaliation by terrorist groups affiliated with the subjects, fearing that if he didn't, the footage would be leaked and leave them exposed to attack. In an internal review of Haspel, declassified for Senators in April, the agency "found no fault with the performance" of the deputy director regarding the tapes, according to the Post.
Regardless, critics of Haspel came out in full force.
"Dear @realDonaldTrump: Are you afraid to use the word 'torture' in your misleading tweet?" wrote California Rep. Ted Lieu on Monday, quoting Trump's tweet about the nominee. "That's the issue with Gina Haspel, that she promoted or was complicit in torture."
Advocacy groups sounded the alarms over Haspel and her potential confirmation as director. The American Civil Liberties Union, for its part, didn't bother sugar-coating it, and said that her appointment would amount to a "direct endorsement of torture."
University of Texas Law Professor Steve Vladeck pointed out Trump's apparent ambivalence towards Haspel's record on torture. "A President who sees no problem w/ torture is all the more reason to want a CIA Director who does," Vladeck tweeted.
And he has a point: If both the commander in chief and the CIA director are OK with using extreme tactics, how does that bode for the fate of the agency and the decisions it chooses to make?
A former chief prosecutor at Guantánamo Bay for the U.S. military, Morris Davis weighed in on Haspel, claiming she was one of a few people "rewarded for supporting torture."
For the time being, Haspel is still scheduled to appear before the Senate on Wednesday for her confirmation hearing. But if the uproar on social media is any guide, it might be a tough day for her, not to mention for the White House.