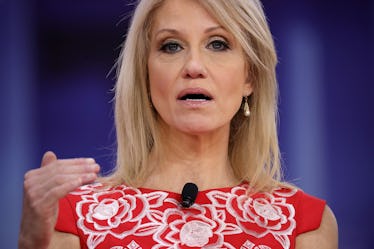 Kellyanne Conway's Response To Being Accused Of Leaking Is So Interesting
Chip Somodevilla/Getty Images News/Getty Images
On Easter Sunday, during an interview on CNN, Kellyanne Conway was labelled the "number one leaker" in the White House by Ronald Kessler, the author of a new book about President Donald Trump's administration. A day later, she got a chance to address Kessler's claim and Kellyanne Conway's response to being accused of leaking was nothing short of fascinating. Conway not only defended herself but made a subtle (yet, arguably obvious) accusation against another Trump ally.
Conway's response came during a Monday, April 2, interview with Fox & Friends. During the interview, she pushed back against the idea that, among other accusations from Kessler, she's talked to the press behind Jared Kushner and Ivanka Trump's backs.
"I have a great working relationship and a great relationship with Jared and Ivanka, had dinner with them recently at their house," Conway said. She later added, "[President Trump] knows, and he has said publicly and privately, who the leakers and the liars are and have been. Very happy that there's a lot less leaking in the White House now than there was."
Conway's comments on leaking came after her Fox News' Abby Huntsman asked her about Kessler's CNN interview from the day before. During that particular interview, Kessler said that Conway told him the most "mean, cutting, and obviously untrue" things about former White House Chief of Staff Reince Priebus while forgetting that she was speaking to him on the record.
Elite Daily reached out to the White House for comment on the accusations that Conway leaked information, but did not hear back at time of publication.
"I know that White House aides have seen texts that she has sent to other journalists, dissing her colleagues, leaking material," Kessler told CNN's Jake Tapper. "So if you wonder why there are so many leaks out of the White House, one reason is Kellyanne is the number one leaker."
Kessler is the author of The Trump White House, a book that was released on Tuesday, April 3.
That Kessler singled out Conway for being a leaker is noteworthy for a couple of reasons.
For starters, it isn't the first time that a veteran journalist — who arguably has nothing to lose — has outright called out Kellyanne Conway on CNN. Flashback to January 2017, days before President Trump's election, and the height of the Russian dossier mania.
It was then that Carl Bernstein — a journalist best known for breaking stories during the Watergate era in the 70s — responded to Conway criticizing CNN over its reporting about the dossier.
"One of the great anonymous sources of our era is Kellyanne Conway," Bernstein said at the time. "She does it every day. She has been an anonymous source for the last ten months, particularly during this campaign when it suits her, and it's time to talk about what we do as journalists, and what propaganda ministers do, and that is what she is, is a propaganda minister."
Then there's the most important fact: Some of Trump's allies known for making the most aggressive criticisms of biased media coverage and reporting about Trump's White House have been the ones who are most suspected of leaking stories to the media about... Trump's White House.
For a perfect example, look no further than how Kellyanne Conway appeared to be pointing her finger at another Trump ally on Monday. During her interview with Fox News, Conway said,
Leakers get great press, and one day, Abby, I will have my say. So that will be very, very fascinating. I will have my say... You know, we learned a long time ago around here, the people who say 'enemy of the people, opposition party, fake news, biased media,' they can talk to the media all day long because nobody would suspect them.
In January 2017, in an interview with The New York Times, Steve Bannon said, "I want you to quote this. The media here is the opposition party."
You connect the dots.