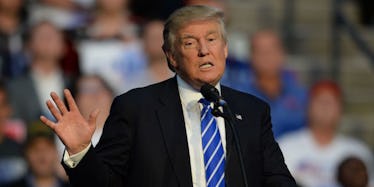 Aside From 'Golden Showers,' Here's The Trump-Russia Report's 6 Allegations
REX/Shutterstock
BuzzFeed just published a dossier that people will be talking about for a long time to come.
The unverified document claims Donald Trump hired sex workers to perform "golden showers" on a bed in Moscow's Ritz Carlton Hotel, the same bed President Obama and Michelle Obama once slept in.
It also claims Russia has proof of this sexual act as blackmail against the president-elect.
However, in its 35 pages, the dossier, allegedly gathered by a former British intelligence officer, contains much graver implications if true. Here's the 6 most insane things we've learned.
1. Putin on the Ritz!
By now, we all know everything in Trump's home is probably entirely made of gold. Who knew that included showers? I kid, I kid...
As aforementioned, the dossier claims that not only did Trump allegedly "employ" sex workers to urinate on a bed at the Ritz Carlton, it was all done to get back at the Obamas.
It also alleges Russia would be able to blackmail Trump with this.
2. Trump-Putin cooperation
The dossier contains allegations that claim Trump not only accepted help from Putin, but also cooperated with the agents of the Kremlin, including staff based within the United States.
The dossier also claims Trump spied on Russian oligarchs and their families in the US.
Furthermore, it purports Trump's team and the Kremlin had allegedly been exchanging intelligence "for at least 8 years."
3. The Putin regime's support for Trump goes back at least 5 years ago
In addition, it claims Trump accepted intel on Democratic and political rivals.
4. Trump's Anti-NATO stance
The dossier alleges Trump, under Russian influence, reportedly agreed to Russia's anti-NATO stance to "deflect attention away from Ukraine." Once again, this is all unverified.
5. "GINA!"
In one of the pages of the report, it reads,
Commenting on the negative media publicity surrounding alleged Russian interference in the US election campaign in support of TRUMP, Source E said he understood that the Republican candidate and his team were relatively relaxed about this because it deflected media and the Democrats' attention away from TRUMP's business dealings in China and other emerging markets. Unlike in Russia, these were substantial and involved the payment of large bribes and kickbacks which, were they to become public, would be potentially very damaging to their campaign.
The dossier claims Trump has had even more compromising ties (including bribes and kickbacks) to other countries, especially China.
6. "Extensive sexual services"
Trump, never to walk away empty-handed, reportedly settled for prostitutes when his attempts to venture into Moscow and St. Petersburg's real estate did not come to fruition:
Finally, regarding TRUMP's claimed minimal investment profile in Russia, a separate source with direct knowledge said this had not been for want of trying. TRUMP's previous efforts had included exploring the real estate sector in St Petersburg as well as Moscow but in the end TRUMP had had to settle for the use of extensive sexual services from local prostitutes rather than business success.
Well, at least, he's keeping his business local. Hey, IT WAS JUST A JOKE, OK? THIS IS ALL SO HEAVY.
Citations: These Reports Allege Trump Has Deep Ties To Russia (BuzzFeed)