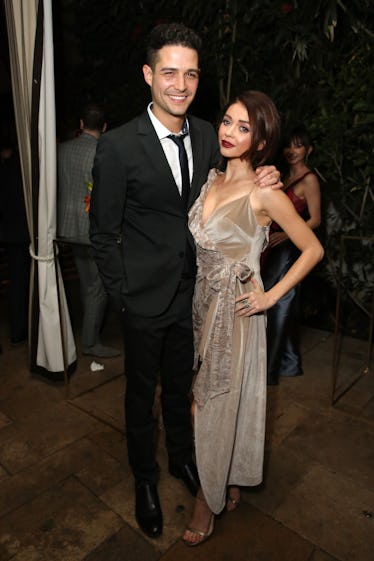 Sarah Hyland & Wells Adams Might Take A Huge Step In Their Relationship & I'm Screaming
Rachel Murray/Getty Images Entertainment/Getty Images
Sarah Hyland is definitely living her best life these days. Whether she's wrapping up filming for Season 9 of Modern Family, rocking out with her friends to Dua Lipa, getting her face mask on in the car, hilariously recapping The Bachelor on Instagram, designing her new line of dresses for Candie's, or just hanging out in Nashville with her adorable boyfriend, the girl just always seems to be having so much fun. Speaking of which, I can't help but wonder: Are Sarah Hyland and Wells Adams getting engaged? Apparently, the MoFam actress already has a ring picked out! And I totally don't blame her, because she and Adams are seriously the most perfect couple ever. I really hope this means the two of them are going to tie the knot soon — and I really, really hope they beat Arie and Lauren B. to the altar!
Hyland was out and about in West Hollywood on March 13 for the Lorraine Schwartz launch party for her new collection of Evil Eye Bangles, when she copped to the fact that she's totally thought about the kind of ring she wants when she gets engaged.
"Um, I'm a 27-year-old woman, of course I have," she told Entertainment Tonight. "I'm a 27-year-old woman at a jeweler's event, of course I have."
Like, duh! And while Adams was stuck in Nashville and couldn't roll up to the party as Hyland's plus-one, the former Bachelorette contestant and Bachelor in Paradise bartender apparently already knows which rock his girl has in mind, so it's all Gucci.
"He knows what it is," she confessed. "So it's fine." YOU GUYS! This means Hyland and Adams have totally talked about buying rings. Could wedding bells be far behind? I am so excited about this new development that I can barely think straight. Because can you even imagine how awesome that wedding would be? Just picture a guest list that includes everyone from Sofia Vergara and Ariel Winter, to Ashley Iaconetti and Luke Pell. Go ahead, I'll wait.
Hyland and Adams first went public with their epic romance last fall, when they became Instagram-official in a bunch of now-iconic "Stranger Things have happened" couples costume posts (she was Dustin, he was Eleven). They've been letting the public happily watch their relationship play out on social media ever since. They watched The Princess Bride together, wore sheet-style pomegranate face masks together, decorated a food-themed Christmas tree together, and scarfed pizza sitting courtside at a Lakers game. It just doesn't get any better.
Hyland stopped by Jimmy Kimmel Live! on Jan. 23, where she spilled all the deets on exactly how the couple first met.
"He slid into my DMs," she explained. "We had tweeted each other, and I thought he was funny and he was a fan of the show. So I just thought, I saw him as the bartender [on Bachelor in Paradise], and I was like, 'That's really cute,' and I was single, obviously, and I was like, 'You're being very forward and it's sexy — it's very confident and sexy — and I like that.'"
"Forward in what way?" Kimmel wanted to know.
"Like, 'Next time I'm in L.A., I'm taking you out for drinks and tacos.' And that's like... I love tacos!"
So smooth, Wells! Who knew the guy who lost his shiz during the firefighter challenge on JoJo's season of The Bachelorette actually had game?
"He loves tacos, so that was like his thing," Hyland explained. "Like 'I love tacos, let's see if she likes tacos'... and we both like tacos! We have like an obsession with tacos."
They may not have set a date yet, but I'm pretty sure they know what they'll be serving at the wedding!