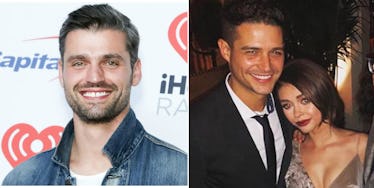 Peter Kraus Opens Up About Wells Adams Dating Sarah Hyland & It's So Cute – EXCLUSIVE
Peter Kraus is an undeniable fan favorite from recent Bachelor history. The Wisconsin trainer won the hearts of America in Rachel Lindsay's Bachelorette season last year, and while he's slowed down on the reality TV front as of late, his career is just getting started. As for his personal life? Peter spoke to Elite Daily about his current dating life, and he shouted out a certain couple with ties to the franchise. Peter's response to Wells Adams & Sarah Hyland dating is a seriously sweet remark regarding finding love in and outside of the Bachelor universe. We asked Kraus if he'd prefer to date someone who has seen him on The Bachelorette or not and he revealed,
I would say just whoever I connect with. Like I watch Wells and Sarah Hyland, and they are adorable together and they're both in the public eye and found a common connection and seem to have a really, really happy and fun relationship. So if I could find someone like that, someone who knows what it's like it'd be great. But coming from a reality TV experience is very different than someone who actually has real talent and an ability on national television is very different.
Aww. Wells and Sarah are definitely one of the cutest couples around, so we're not surprised that Peter is taking relationship inspo from them. The pair met via social media and not a big fancy industry event, so anything's possible, right? Even though Sarah is one of TV's most notable actresses, she's also just a loyal reality fan who watched Wells' journey from the comfort of her own couch. Eventually their Twitter flirtation evolved into something more, and the rest is history. Love in the 21st century is magical, you guys.
If you follow the either of them on Instagram, you probably know that they're not shy about their relationship. Their adorable snaps are both goofy and romantic and it appears they're having a great time enjoying each other's company.
"Have you seen those memes of like, 'slide Into the DMs'? That ... He slid into my DMs," Sarah admitted on Jimmy Kimmel Live! on Jan. 23. "I saw him as the bartender and I thought that was really cute. I was single, obviously, and was like, 'This is really awesome. You're being very forward and it's sexy and not aggressive, but very confident and sexy,' and I liked that," she went on, explaining how he originally messaged her. Apparently that led to a taco date in LA. Peter, are you taking notes?
Despite #BachelorNation's pleas and our letters to ABC (we kid, we kid), Peter did not take the role of Season 22's Bachelor — that honor went to Arie Luyendyk Jr. — or appear on the upcoming The Bachelor: Winter Games. But the Bachelorette runner-up has been keeping plenty busy as of late, and one of his latest projects is getting involved with a new app. "It's hivesocial.com," he told Elite Daily. "The idea behind it is you have common interests with people here in town, but you don't know those people, so what we'd like to do is get you to go onto this app and put into your search profile the interests that you have and that will go on one common feed and you'll find all the people with those same interests."
We look forward to seeing what Peter does next — it looks like he'll continue to inspire people on social media, through his fitness career, and beyond. Who knows? Perhaps we'll see him on our TV screens again in the future. And maybe he'll find a love like Sarah and Wells someday. We're rooting for you, Peter.