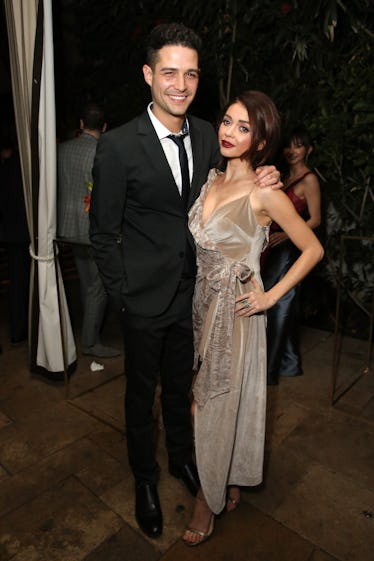 Sarah Hyland Told The Story Of Her First Date With Wells Adams & It's So Relatable
Rachel Murray/Getty Images Entertainment/Getty Images
I can't remember a time when Modern Family actress Sarah Hyland wasn't dating Bachelorette alum Wells Adams. I mean, it's only been a few month's time, but they just look so damn perfect together, that maybe I just don't want to remember a time before the pair got together. I'm here for it, I ship it, it's a 10 out of 10 in my book. And what's even better is the story of how they met. I'm a sucker for any kind of meet-cute (you literally could meet your soul mate while throwing garbage away in the same can and I'd think it's so beautiful), but theirs is pretty adorable because it involves one of my favorite foods. Yep, Sarah Hyland's first date with Wells Adams involved tacos, so we can all just go home now because 2018 is perfection.
Hyland appeared on Jimmy Kimmel Live! on Tuesday, Jan. 23 and revealed just exactly how their first date went down and, in true millennial form, it involved the internet. She said,
He slid into my DMs... I was following him [on Twitter], we had tweeted each other, and I thought he was funny and he was a fan of the show [Modern Family] ... so I just thought, I saw him as the bartender [on Bachelor in Paradise], and I was like, 'That's really cute,' and I was single, obviously, and I was like, this is really awesome.
She then said that as they were talking, Adams was "forward and sexy," and when Kimmel pressed her on this, she said Adams told her that the next time she was in L.A., he was going to take her out "for drinks and tacos."
Be still my beating heart.
Is that not the most beautiful thing you've ever heard in your entire life?
She then realized it was obviously fate. She continued, saying,
I love tacos. He loves tacos, so that was like his thing, like 'I love tacos, let's see if she likes tacos'... we both like tacos!
Could there be a more perfect combo than Twitter and tacos?
The answer is no, if you were wondering.
Kimmel called them "a marriage made in Mexico" and he's not wrong. Could we please persuade Hyland and Adams to get hitched in Cabo? Universe, please make that happen.
She also went on to say that people getting together via social media is basically the new normal, adding, "It's happening, I guess, everywhere, I don't know the rates," and don't worry girl, we won't press you for any stats just yet. You just soak up the honeymoon phase of your relationship with Wells, and we'll do all the math involved.
Just kidding, I don't do math.
And if you thought Hyland was the only one gushing about her relationship, NOPE, Adams is just as cute about displaying his feelings for his lady.
Back in Novemeber of 2017, Adams decided to surprise Sarah Hyland with a helicopter ride to celebrate her birthday, and he posted about it on Instagram. Don't get me wrong, the photo is all sorts of adorable, but it's the caption that will make your heart melt. It reads:
Top 5 ways helicopters are like Sarah: 1. They make you feel like you're floating. 2. Every moment with them is an adventure. 3. They make you feel like you're falling, in the best way. 4. They defy gravity. 5. They are really f*cking cool
So yeah, I think we can all agree that their love story is truly one for the ages. If you're still skeptical, let me leave you with one last thing:
Mo money, mo tacos. You two lovebirds are crushing it.