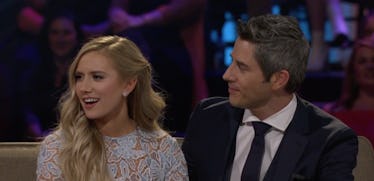 'Bachelor' Arie & Lauren B. Open Up About Having Kids & The Details Are... A Lot
ABC
The ring has been on her finger for less than 24 hours, but The Bachelor's Lauren Burnham and her fiancé Arie Luyendyk Jr. are already talking future plans. ICYMI, the couple got engaged on the March 6 finale of the most controversial season in Bachelor history, after Arie awkwardly broke off his engagement to Becca Kufrin, and let cameras film the whole sordid thing. It was a pretty shady start to his new relationship with LB, but somehow they survived. Now the engaged couple seems so damn in love that I have to wonder: Will Arie and Lauren have kids sometime soon? I mean, it just may happen, since they are already taking about starting a family!
"I'm moving to Scottsdale," Lauren told People, referring to the town where Arie lives. "And we're both very excited about marriage and starting a family." So yeah, it looks like they aren't wasting any time.
"If we get lucky, maybe we'd have twins!" Arie added. Um, OK. Look, I'm glad Arie and Lauren found love. Really, I am. But all this talk about their future together just stings when you take Becca's feelings into consideration. I mean, wasn't it just, like, five minutes ago that Arie was talking about starting a family with her, and she was busy gluing pictures of storks into her scrapbook?
Sidebar: I wonder what happened to that thing. Bachelor fans over on Twitter seem to have an idea, and not gonna lie, it's actually pretty fetch:
A Mean Girls reference is always a good idea, am I right?
Anyway, it's not really all that surprising that these two are in such a hurry to procreate, considering they also told People they don't want to waste any time since their engagement was delayed. "Delayed" LOL. I guess that's one way to put it. You know what else wasn't all that surprising? Arie proposing to Lauren on After The Final Rose, since apparently the exes have been back together and secretly planning their wedding long before the show ever aired.
"We've already been planning it, even before the engagement," Arie explained. "We want to do it quickly!" Hmmm, so what was that whole fake panic attack thing on Lauren's doorstep about then? I'm gonna need some answers.
Oh and get this: Because all the wedding planning and baby-making isn't keeping them busy enough, the couple also plans to start working together.
"We plan on doing real estate together," Arie explained. "We'll do some remodels. It'll be fun!" Uh-oh. I feel a spinoff coming on!
In the meantime, fans of the show have had lots to say on social media about the idea of Lauren and Arie having kiddos.
Do two saltines equal an oyster? It may be faulty logic, but I get where she's going with this.
All kidding aside, there is a part of me that is actually kind of happy for Arie. Because let's not forget waaaay back in Week 6, when Krystal was still a thing (but not for long), and Arie took Lauren on a one-on-one date where they strolled around Paris while struggling to make conversation. Remember that? Good, then you'll probably also recall when later that night Arie revealed to Lauren that he once got his ex-girlfriend pregnant and almost had a baby! He told her how his ex lost the baby, and how going through it all made him realize how important having kids is to him in the future.
The whole story was just really, really sad, and I really do hope these two find a way to live out their dreams together, haters be damned.