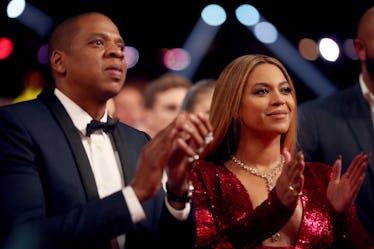 Beyonce & JAY-Z Skipped The VMAs Despite All Their Nominations
Christopher Polk/Getty Images Entertainment/Getty Images
Beyoncé and JAY-Z may be navigating a wild tour schedule right now, but fans are hoping to catch a glimpse of the legendary couple on the VMAs red carpet. So, are Beyoncé and JAY-Z at the 2018 VMAs? Unfortunately, neither of these icons showed up to the VMAs this year. And that's totally understandable since they have so much on their plates right now. I mean, they have a gaggle of kids, new music to promote, and loads of fans to please. If they need to skip out on the VMAs to do all of that, then let them be!
It's disappointing that they're not at the VMAs, though, because their names are all over the nominations. Bey and Jay topped the list when VMA nominations were announced back in July, so of course people were expecting to see them on the red carpet and during the awards ceremony. But since they're not there, I guess someone else will have to take their place on stage if they do end up winning any awards. I wonder who it'll be?
The husband-and-wife duo received eight nominations total. This year, they're up for Video of the Year, Best Collaboration, and Best Hip Hop for "Apesh*t," which was released in June. The incredible video, which made fans go wild with excitement, was filmed at the Louvre in Paris in May 2018. An impressive location, for sure.
The video is truly haunting with incredible imagery and choreography. Bey and Jay look as regal as ever. As if fans expect anything less, right? They're basically music royalty at this point.
Anyway, there's a sense of extravagance to the "Apesh*t" video, and it's unlike anything people have seen before. But isn't that what everyone has come to expect from the Carters, anyway? They serve up some incredible art at any given time, so it makes total sense that they'd be nominated for all of these VMAs.
Here's a look at video for the song:
In any case, Bey and Jay are up for some major awards, so it's too bad they won't be on hand to accept whichever awards they happen to win. And if they don't walk away with a single award, you can bet that fans will riot. Bey and Jay have some of the most hardcore fans of any artist working today.
Fans are super excited about all the potential awards they're faves are going to win. More than that, though, they're a bit disappointed that they're apparently not at the ceremony. Here's what fans are saying about Bey and Jay ahead of the awards show:
With any luck, the husband-and-wife duo will walk away with some of the biggest prizes of the night. But they do have some serious competition: Cardi B, Drake, Ariana Grande, Bruno Mars, Jennifer Lopez, and so many others are nominated in the same categories as the Carters. So, there's a slight chance Bey and Jay won't get a Moonperson. But I'm betting they'll get at least one. I mean, what would the VMAs be without giving Bey and Jay some of the spotlight?