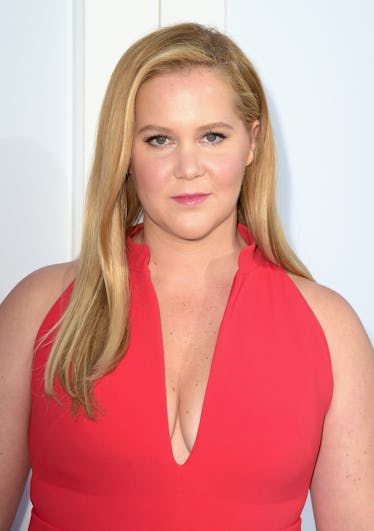 Amy Schumer & Her New Husband Made Their Red Carpet Debut & They Look So Happy
Kevin Winter/Getty Images Entertainment/Getty Images
Marriage isn't official until it's red carpet official. Just kidding, of course that's not true, BUT it does bring me great joy when a newly-married celeb couple walks the red carpet together for the first time as husband and wife. If you recall, our girl Amy Schumer got hitched to chef Chris Fischer and has been seemingly living the good life with her new husband. And now, they've finally done it: Amy Schumer and Chris Fischer's red carpet debut just happened, and the photos prove just how in love they are with each other. I promise that it will warm your cold, cold heart the way it has done mine.
The newlyweds walked the red carpet together for the very first time (awww!) at the premiere of Schumer's new film, I Feel Pretty, on Tuesday, April 17, and were NOT being shy for the cameras, either. They were captured kissing and smiling and doing all the things that people who are young and in love are supposed to do. Schumer looked positively radiant in a two-toned pink-colored gown with a tie waist (trés chic), and Fischer was total arm candy, looking dapper in a crisp, black suit.
Instead of telling you how #blessed the world is seeing these two together, let me just show you:
Also, can we just look at how fresh-faced and naturally gorgeous Schumer looks? She's literally glowing.
And here they are again, this time showin' some love and affection for the cameras:
They've got the kind of love that's so adorable, you almost feel nauseous (but in like, the BEST way possible).
Oh, and just in case you wanted to see Amy Schumer showing off her new wedding band alongside her gorgeous engagement ring, here ya go:
I love me a dainty wedding band. I have one too, so honestly, I feel like me and Amy are basically sisters now. Get it, sis!
It seems like only yesterday that the comedian and actress took to Instagram on Feb. 15, showing the world that she secretly got married the day before Valentine's Day. She simply captioned her photos from her wedding day with "yup," telling everyone that, oh yeah, she did the damn thing.
As if that wasn't precious enough, Schumer took to Instagram again later that month to share a small highlight reel of their wedding day, which included their vows. If you have a heart, the video will make you happy sob, because it's just THAT beautiful.
Fischer began his vows first, saying, "I love you, Amy. You bring happiness and joy to every part of my life. You are the best thing to ever happen to me. I love you with every piece of my heart."
Crying? I'm not crying.
OK, fine, I'm totally crying.
But then, in true Amy Schumer form, her vows start off with a joke. "I just wanted to plug some of my road dates," which LOL, solid start, girl. But then she gets sentimental, and then hey, here I go crying again!
"People are probably wondering, why the rush? Why so fast? And it's because I truly cannot wait another second to be your wife," she told Fischer. "I love you."
So, yeah, one could say that these two are impossibly sweet together, and apparently, married life is treating them just fine. Schumer opened up to Nikki Glaser about how life is after marriage in an interview on Glaser's SiriumXM Radio show, You Up with Nikki Glaser.
"It feels f*cking good!" she told Glaser. "I'm a wife as hell. But it's still like, a novelty."
Here's hoping that blissful, newlywed feeling doesn't wear off anytime soon. By the looks of it, these two shouldn't be worried at all.