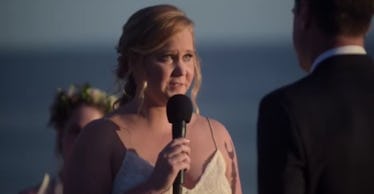 This Video Of Amy Schumer's Wedding Vows To Chris Fischer Will Make You Cry So Hard
Instagram/Amy Schumer
Break out the tissues, you guys, and get ready for some serious romantic feels. As you all know, Amy Schumer married Chris Fischer in a super impromptu (yet overly gorgeous) ceremony, and it was the highlight of our week — which is saying a lot, because it was the week of Valentine's Day. It was a last-minute event, and yet it looked flawless, so maybe Amy needs to think about a second career as a wedding planner? Just sayin'. And now, Amy is tugging at our heartstrings once more on social media. This video of Amy Schumer and Chris Fischer's wedding vows that Schumer posted to Instagram will make you cry so, so hard. I was honestly not prepared for such a beautiful video, so maybe YOU CAN AT LEAST GIVE ME A HEADS UP NEXT TIME, AMY? That way people aren't looking at me strangely when I'm crying while walking down the street. Thanks so much in advance, girl.
So, a few things before you watch the video: Are you emotionally prepared? Are you physically prepared? If the answers to these questions are both "yes," I'm still really suggesting you give yourself a minute.
Don't say I didn't warn you, OK?
Watch this video a million more times, and then we can chat about it.
I mean, first of all, Amy is actually glowing with happiness and it's so evident. And Chris looks so dapper and excited to recite his vows. We haven't even gotten to the part where they commit themselves to one another and I'm already sobbing.
Fischer begins his vows first. "I love you, Amy," he says. "You bring happiness and joy to every part of my life. You are the best thing to ever happen to me. I love you with every piece of my heart."
When it's Schumer's turn, she delivers her vows in true Amy form: hilarious and witty, but also with a sweet sentiment at the end. She starts of her vows by joking, "I just wanted to plug some of my road dates," and could we love her any more?
Nope, we truly cannot.
But then she dives right into a speech that's heartfelt and thoughtful. "People are probably wondering, why the rush? Why so fast? And it's because I truly cannot wait another second to be your wife," she tells Fischer. "I love you."
Plenty of close friends and family were there to attend the celebration, including my pretend BFF Jennifer Lawrence, who spoke with Entertainment Tonight about some of the details of Schumer's wedding. She said,
It was beautiful. It was very sudden, but it was, I was sobbing the whole — his vows were stunning. It's when two people really love each other and they really mean it, it shows, and it was a beautiful ceremony and an amazing time. I couldn't be happier for them.
True love is alive and well, people.
And now that Schumer is a ~newlywed~, she sat down for an interview for friend Nikki Glaser's podcast, You Up with Nikki Glaser, and talked about how life is now that she's married. "It feels f*cking good!" she told Glaser. "I'm a wife as hell. But it's still like, a novelty." Enjoy every bit of it, girl!
She also added that she and Fischer are loving using the new term "husband and wife" because hello, that's so grown-up! She said, "Somebody went to sit next to [Chris] and he's like, 'My wife is sitting here,' and then I got back and he was excited to tell me that he said that. I just have been really overusing it to a degree that's insane. Like, when it's completely uncalled for."
Amy, we give you and Chris full permission to use those terms whenever you damn well please. You two have clearly earned it.