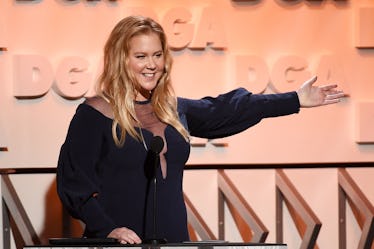 Amy Schumer Opened Up About Life After Marriage & She Sounds So Happy
Kevork Djansezian/Getty Images Entertainment/Getty Images
Amy Schumer is a "wife as hell" now (her words), and she's loving every minute of it. The comedian/actress opened up to Nikki Glaser about life with husband Chris Fischer in an interview on Glaser's SiriumXM Radio show, You Up with Nikki Glaser, and Amy Schumer's quotes about married life show just how damn happy she is after getting married. "It feels f*cking good!" she told Glaser. "I'm a wife as hell. But it's still like, a novelty."
In case you missed it, Amy Schumer got married to her boyfriend, chef Chris Fischer, on Tuesday, Feb. 13 in a quickly-planned Malibu ceremony. By quickly-planned, I mean she texted her invitations to friends saying she was getting married in two days and if they could make it, great! Every married person in the world who had a miserable time planning their wedding is jealous AF of Schumer right now (probably). Schumer confirmed the wedding news in an Instagram post that featured lots of pictures from the happy day. She captioned it, "Yup," as her way of confirming the rumors that she and Fischer tied the knot. Photos of Amy Schumer and Chris Fischer's wedding also showed that Jennifer Lawrence, Larry David, and Chelsea Handler were in attendance, and according to reports, David Spade, Jennifer Aniston, and Judd Apatow were also there.
Schumer has been posting on Instagram a bunch since her Feb. 13 wedding. She posted this hilarious video of her, Fischer, and two of their friends pretending to curl (you know, Olympic mopping).
Classic Schumer. And now classic Fischer! The actress told Glaser that married life has been a lot of fun for the two of them, and the novelty of it still hasn't worn off. (I mean, it's only been about two weeks, so I would hope not!) She said in the interview,
Somebody went to sit next to [Chris] and he's like, 'My wife is sitting here,' and then I got back and he was excited to tell me that he said that. I just have been really overusing it to a degree that's insane. Like, when it's completely uncalled for.
She also revealed some of what was said in their vows, and I'm a mixture of crying tears of joy and crying tears of laughter at Schumer's. She told Glaser of her vows, "Mine sucked! I thought mine were good, I wrote mine in like, 20 minutes. I was crying when I wrote them, but his blew me out of the water so hard." Glaser, who apparently was one of the wedding guests, said back, "I remember a joke from yours. You go, 'You make me laugh, you make me smile, you make me feel loved, you make me food.'" Those are freaking perfect wedding vows, if you ask me. Schumer added,
In my vows I go, 'But I promise I'll keep going down on you, even though everyone tells me I won't.' And his were like, heckling me too. He was like, 'The other day I lost a tennis match and you called me a f*cking loser.' It was all like, awful sh*t.
Schumer also talked about why she feels getting married so quickly was the best thing for her and Fischer's relationship. "Part of the thing that's good about us getting married so quickly," she said, "is that we're so in love. Every girl I know, if they get proposed to they're like, 'Oh now? Now that I can't have kids!'" Clearly, Schumer and Fischer weren't interested in waiting around to commit to each other #forevs. But don't worry, Schumer made sure to let us know that her and Fischer's life together is still just as funny as you'd expect Amy Schumer's life to be. "All his stories about me that were supposed to be endearing were about me screaming at him," she joked. She continued,
I just annoy him all day. I'll be like, 'Do you want to play a game?' and he's like, 'What?' And I'm like, 'Guess how many times I sneezed today?' And like, that'll be the game. And he'll be like, 'Three.' And I'll be like, 'Don't remember!' And he's like, 'I'm spending my life with this worthless monster?'
Congrats to the happy couple!!