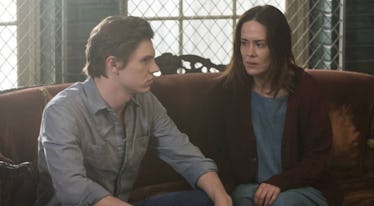 New 'AHS' Season 8 Rumors Say It Will Take Place In 2032 & I'm Already Screaming
FX
So much about the upcoming season of American Horror Story is still being kept a mystery, but now some pretty exciting details are starting to leak about when and where Season 8 will take place, and what the big theme for the new season will be. The new American Horror Story Season 8 clues make it sound like the horror franchise is going in a completely new direction this time around.
As always, the big question about the new season is what it will be subtitled. Although the theme of Season 8 has yet to be officially revealed, most fans are pretty convinced that it is going to be called American Horror Story: Radioactive, and focus on some sort of nuclear fallout. That rumor began when eagle-eyed fans noticed FX had trademarked the name American Horror Story: Radioactive last month, and when asked about the rumored new theme, Ryan Murphy coyly responded that he could "neither confirm nor deny" if it was true.
I heard about that rumor. Well, that's based on a fact that we've cleared a lot of titles for that show. It's an interesting idea. I can neither confirm nor deny.
Now, even more rumors are sprouting up about this alleged Radioactive season. One of the few things that we know for sure about Season 8 is that it will be the first season of American Horror Story to take place in the future, although Ryan Murphy never gave us any specifics on just how far into the future Season 8 is planning on going. New rumors and potential leaks online are now claiming that Season 8 will be set in the near future — in the year 2032, to be exact. Fans are also claiming that the new season is set in Arizona, and in keeping with the Radioactive theme, it will take place shortly after a massive nuclear blast wipes out (or mutates) much of the people in the area.
And there is even more rumored news about Season 8. Apparently, AHS: Radioactive is going to focus on a group of survivors who were unaffected by the nuclear blast, and the cast for the new season will include Dylan McDermott, Denis O'Hare, Adina Porter, Cheyenne Jackson, Leslie Grossman, and Eddie Cibrian.
As a reminder, none of this casting has been confirmed yet. The only cast members that are officially confirmed to star in American Horror Story Season 8 at this point are mainstays Sarah Paulson and Evan Peters, and returning star Kathy Bates. But even though he has not been confirmed as a cast member yet, Dylan McDermott has been teasing that he would be returning to American Horror Story very soon, so there may definitely be some truth behind that rumor. The actor hasn't returned to the series since he starred in the show's first season, Murder House, but recently assured a fan that he would come back to the horror anthology "in the near future." Since we know Season 8 is taking place in the near future, it sure sounds like McDermott was dropping a hint that he is involved in this upcoming season.
A release date for American Horror Story Season 8 has also not yet been officially announced, although FX did confirm it would premiere in 2018. Since every season of American Horror Story so far has premiered in either September or October, I would say that it is a pretty safe bet to expect Season 8 to drop on FX in one of those two months later this year. As for whether or not the theme really is Radioactive, we will just have to wait and see.