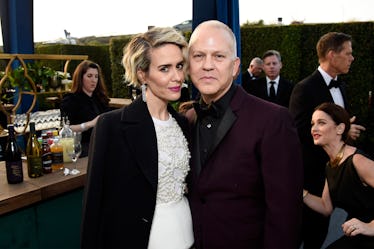 Ryan Murphy Weighs In On That Major 'AHS' Season 8 Theme Rumor & We're Not Ready
Matt Winkelmeyer/Getty Images Entertainment/Getty Images
American Horror Story Season 8 is still months away, but creator Ryan Murphy is already giving fans hints about the new season. The creator has told fans about the timeline (futuristic), the stars (the usual crew), and the costumes (crazy), but he's stayed silent on rumors about the theme of the next installment. On Tuesday, Murphy finally chose to break his silence and weighed in on the bone-chilling theory. Is the AHS Season 8 theme "Radioactive," as many fans have suggested? Murphy didn't give a concrete yes or no, but one thing is clear: no matter the theme, the next season of American Horror Story is going to be one for the books.
Rumors about AHS "Radioactive" first started swirling when a popular fan account, AHS Leaks, discovered that Twentieth Century Fox (FX's parent company) filed a trademark for American Horror Story: Radioactive. The trademark was fairly comprehensive and seemed pretty legit, so naturally, fans thought they had stumbled upon the secret theme of the next installment. Word spread quickly, prompting Murphy to address the rumors in a exclusive interview with Entertainment Weekly on Tuesday:
I heard about that rumor. Well, that's based on a fact that we've cleared a lot of titles for that show. It's an interesting idea. I can neither confirm nor deny.
So, that's definitely not a yes, but it's not a no, either. When Murphy says "cleared," he means that the company has to register potential names with the government — even ones that they don't end up using. According to Bleeding Cool, "FX registered a number of possible season names before last season's Cult title was announced," indicating that "Radioactive" is just one of many possible avenues the show could take in Season 8. That being said, AHS sleuths haven't discovered any other registered trademarks for Season 8, so there's a good chance Murphy's "can neither confirm nor deny" really means "yes."
In addition to hinting at the new theme, Murphy told Entertainment Weekly that the anthology's biggest stars will be returning. Fans already knew that Paulson would be starring in Season 8, but the creator confirmed that fan-favorites Kathy Bates and Evan Peters will co-star, as well. "Kathy and Sarah Paulson have a lot of great stuff to get to do," said Murphy. "So, with Evan Peters, the three of them are the leads this year." Murphy loves to recast actors, but of all the American Horror Story cast members over the years, these three are definitely my favorite (with the addition of Emma Roberts, because, duh). Peters absolutely slayed in AHS: Cult — and every season, but particularly Cult — and Bates was totally terrifying as the Butcher in Season 6's Roanoke, so I can't wait to see what kind of "great stuff" these three get to do in Season 8.
Murphy may be recasting the same actors in Season 8, but he promises that the new installment will be nothing like the show has seen before. "All I'll say about it is I want to go to the future — still topical, but the future, which I've never done," Murphy told the Television Critics Association in January. FX chief John Landgraf apparently loved the Season 8 theme, even though he "asked [Murphy] not to say what it is." The creator added, "I told him and he fell out of his chair with joy. I think people will like it, it's different from what we've done before, but I always try and do the opposite of what I've done on that show." If "opposite" means no Twisty the Clown, I am definitely, definitely down. Maybe Twisty didn't survive the radioactive apocalypse? A girl can dream.
Entertainment Weekly reports that Season 8 will begin filming during summer 2018, so keep your fingers crossed that set photos will leak, giving us a few more clues about the next installment.