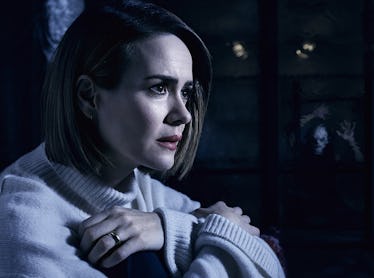 Fans Are Convinced They Know The 'AHS' Season 8 Theme & It Will Give You Chills
FX Networks
Traditionally, Ryan Murphy's American Horror Story has been a little inconsistent. For every amazing season like Murder House or Asylum, you have a season like Freak Show, which included 90 different plots and ended up being kind of tone deaf. But through all the ups and downs, fans have stuck with the series, and now, they're being rewarded for their dedication with a Season 8 that has the potential to be so, so amazing. According to one AHS Season 8 theory, the next season will be called American Horror Story: Radioactive, a title that has our head spinning with possibilities.
The AHS: Radioactive theory comes from die-hard fans who are willing to do a little snooping. According to the Twitter account AHS Leaks, Twentieth Century Fox, FX's parent company, has filed a trademark for American Horror Story: Radioactive, leading many to believe that this is the theme for Season 8. The trademark covers everything from "entertainment services in the nature of a television series featuring drama" to "entertainment amusement park and theme park services," so it's a fairly comprehensive trademark application. However, even though this seems super legit (I don't know much about trademarks, but I feel like you don't want to give the government false information on an application?) there's still a possibility that it could be a red herring: AHS: Roanoke went by a secret codename, Cul-de-sac, well into production, so there's definitely a precedent for Murphy & Co. to jerk fans around a bit before revealing the theme.
While fans may not know whether Radioactive is really the theme, there are a few things that Murphy has revealed about Season 8. In January, Murphy told the Television Critics Association that the next installment will take place in the future, making this season totally different from anything AHS has ever done before:
All I'll say about it is I want to go to the future — still topical, but the future, which I've never done.
A few days later, Murphy spilled another detail, telling fans that Sarah Paulson — who has appeared (and usually starred) in every season of AHS — will get a major makeover for Season 8:
Sarah Paulson is very excited about the dental appliances she will be wearing on the show.
Um, excuse me? Can I get a little more detail here? At first, fans thought that maybe she would be getting braces, a la Ugly Betty, but now that fans know about the possible Radioactive theme, I'm thinking these dental appliances will be much more intense than braces.
As for the direction Season 8 could go, that's anyone's guess. Murphy could get political, like he did in AHS: Cult, and create a post-apocalyptic world in which the Earth has been blown up by its own nuclear weapons. Sarah Paulson could play one of the few survivors — many of whom were left disfigured by the blasts, hence the dental appliances — who is struggling to survive in the decimated environment. American Horror Story's other mainstay, Evan Peters, hasn't committed to Season 8 yet, but in this post-nuclear apocalypse scenario, he could play the leader of another faction who fights with Paulson's character for control over the survivors. Hey, Ryan, if you're interested in the idea, I'm available.
Another possibility, as one Reddit user suggested, is that "people retreat to an underground bunker to save themselves from a nuclear war," where a "Lord of the Flies scenario" develops as people go stir-crazy. Or, there could be no nuclear war at all, and the season revolves around a radioactive chemical spill that threatens a small town. Kind of like the planned Hurricane Katrina season of American Crime Story, but fictional and without all the political corruption (or with it — anything is possible here).
Clearly, there are plenty of bone-chilling possibilities for an American Horror Story: Radioactive season. Season 8 will likely premiere in the fall, so fans will have to wait until then to see where Murphy takes this futuristic installment.