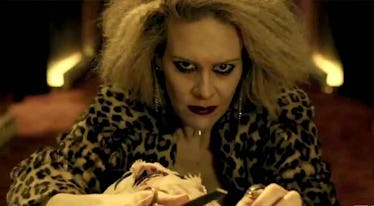 Sarah Paulson Will Get An Extreme Makeover For 'AHS' Season 8 & It's Not Pretty
FX
American Horror Story: Cult may have just ended a couple months ago, but the cast is already preparing to jump into a drastically different new season of the horror anthology series. Showrunner Ryan Murphy has begun spilling the first details about Season 8 of American Horror Story, including what sounds like a pretty massive transformation for Sarah Paulson. Apparently, Sarah Paulson will be almost unrecognizable in American Horror Story Season 8, with Murphy revealing that the actress is going to be sporting "dental appliances" for the new role.
Last week, American Horror Story mastermind Ryan Murphy revealed that the upcoming eighth season of the series will be set in the future, and now he is confirming that Sarah Paulson will continue her uninterrupted streak of starring in every AHS season, and will be taking on a drastic look for the mysterious new story. Murphy told Entertainment Weekly that Paulson is already excited about some potentially face-transforming dental appliances that she will be wearing throughout Season 8:
Sarah Paulson is very excited about the dental appliances she will be wearing on the show.
So, what could these mysterious "dental appliances" be!? Knowing American Horror Story, this tease could really run the full gamut from just a minor detail to a major, horror-inducing transformation for Sarah Paulson. Maybe Paulson will be going full Ugly Betty and getting braces in the new season, or it could be something as intense as a total horror makeup look to turn her into a monstrous character. Since the new season is set in the future, nothing is off the table at this point.
Of course, this will not be the first time that Sarah Paulson has undergone a massive transformation to play characters on American Horror Story. She pulled double duty to play her own conjoined twin in Freak Show, underwent grisly stage makeup over her eyes to play a blind witch in Coven, and took on a dark, Joker-esque look in Hotel to portray the ghost of a heroin junkie. But it sounds like Season 8 could turn out to be Paulson's most drastic transformation in AHS history.
All that we know about the upcoming eighth season of AHS right now is that it will star Sarah Paulson in some form of orthodontia, and it will be the first season of the show to be set in the future. The writers' room isn't starting until next month, though, so overall theme of the season is still being kept under wraps as new story starts to come together. One thing that is for sure: it will not be set in space. Ryan Murphy clarified that the future AHS will be exploring next season will be a completely earthbound one, striking down some fan speculation about a potential space-themed season.
As for who will be joining Sarah Paulson in Season 8, no other actors have been confirmed yet. But obviously, Evan Peters is going to be a part of it, right? Alongside Paulson, Peters has been the only other actor to star in every season of American Horror Story, so it is pretty much a given that he will have some part in Season 8. Ryan Murphy even said that he is already working out a role for Peters in the upcoming season, and is going to ask him the join in once he has the details of the character figured out.
Another actor that may be returning to the franchise in Season 8 is Murder House star Dylan McDermott, who has been absent from the show since Season 1. Recently, McDermott responded to a fan on Twitter asking when he would return to AHS, and he responded "In the near future..." Given Murphy's confirmation that Season 8 is set in the future, it sounds pretty likely that McDermott was hinting that he will be a part of the upcoming season.
Expect Season 8 of American Horror Story to premiere on FX sometime this fall.