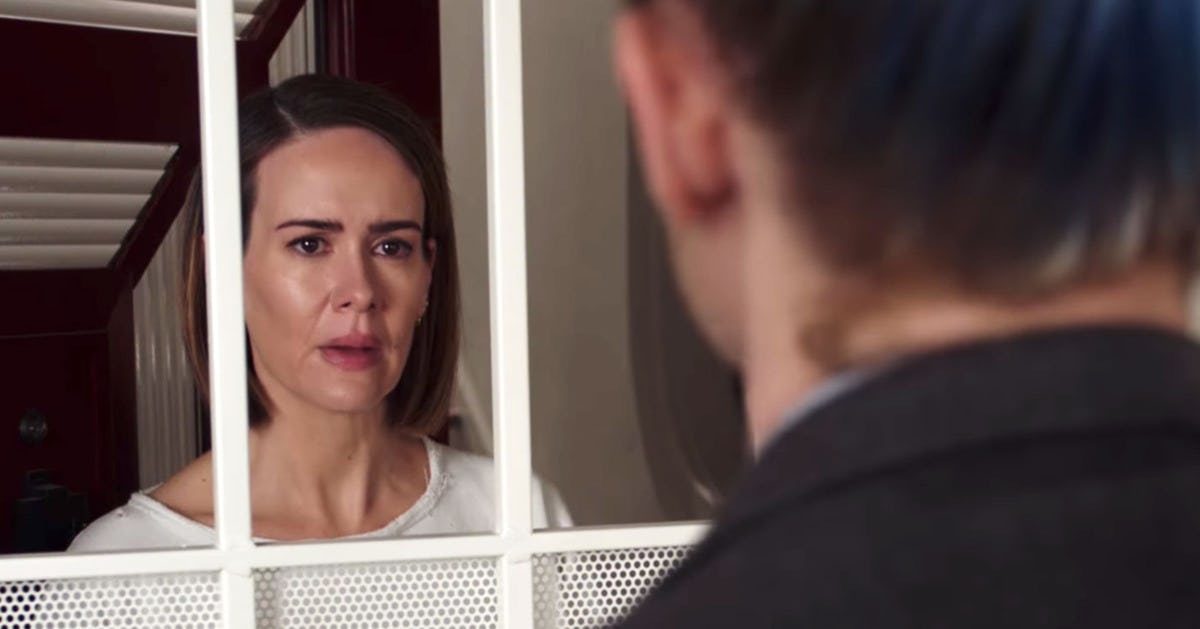 'American Horror Story' Season 8 Is Set In The Future, So Get Ready For A Wild Ride
FX
American Horror Story is going somewhere it has never been before with its next season: the future! Showrunner Ryan Murphy revealed that the upcoming eighth season of his horror anthology series will be mainly set in an imagined future world. Though it is still too early to learn the new season's theme, Murphy did drop some exciting details about what American Horror Story Season 8 is about and how it will stand apart from the past seven seasons.
Ryan Murphy made the first announcements about American Horror Story Season 8 at the Television Critics Association's press tour earlier in January, revealing that his idea for the new story is something set in the future:
All I'll say about it is I want to go to the future — still topical, but the future, which I've never done.
As Murphy noted, this will be the first time that one of his series will be set in the future. Past AHS seasons have included time jumps a number of times, usually connecting events from past eras to approximate present day. Freak Show and Asylum were both set entirely in the past, and the recent Cult is the most radically modern season the show has presented — but the series has never set one of its seasons in the future. Of course, TV and movies set in the future can go in a ton of drastically different directions. Projects like I Am Legend and Last Man On Earth imagine the planet as a post-apocalyptic wasteland with only a handful of humans left; others, like Big Hero 6 and The Fifth Element highlight the exciting technological advancements of the future; and then there's the other wildly popular anthology series Black Mirror, which presents stories of the dark underbelly of near-future tech.
Ryan Murphy did not reveal what kind of future American Horror Story Season 8 will explore, but he did rule out one big rumor: It will not be set in space. So yeah, you can all stop imagining Evan Peters and Sarah Paulson playing aliens or exploring the universe in some sort of spacecraft. Given the fact that AHS is a horror show (that's the "H," after all), fans can definitely expect the new future it will be imagining to be a pretty terrifying one: much more Black Mirror than, say, The Jetsons.
Fans can probably expect to find out what the big theme of Season 8 is going to be pretty soon, since Murphy confirmed that the writing team is going to start putting the futuristic new season together next month. Right now, the only cast member we know is coming back is franchise mainstay Sarah Paulson, whom Murphy teased will be wearing "dental appliances" for her role in the upcoming season. Apparently, other staple AHS actor Evan Peters has not been contacted about Season 8 yet, but of course, Murphy said he is thinking up a role for Peters and is going to get in touch with him once the season is more fleshed out.
As for when we can expect American Horror Story Season 8 to premiere, it will almost definitely start airing this fall. Every past season of AHS has premiered in September or October, so we still have several months to wait until we actually get to see whatever twisted future American Horror Story is going to be creating.
Until then, let the great guessing game about Season 8's plot begin! For some reason, I am thinking it will be some Hunger Games or Divergent-style, post-apocalyptic future where society is fractured into different sectors at odds with one another. Or hey, it could go full-on Mad Max wasteland. It's anyone's guess at this point!