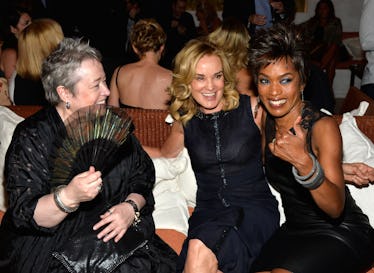 This 'AHS' Favorite Is Finally Confirmed For Season 8, So Get Ready For More Nightmares
Frazer Harrison/Getty Images Entertainment/Getty Images
American Horror Story fans, behold the stars of the anthology series' eighth season. Creator Ryan Murphy just revealed who will be returning to scare the living daylights out of audiences later this year and we couldn't be more excited for what's in store. Will Kathy Bates be in AHS Season 8? The accomplished fan favorite is set for a comeback.
"Kathy and Sarah Paulson have a lot of great stuff to get to do," Ryan divulged to Entertainment Weekly. "So, with Evan Peters, the three of them are the leads this year." A dream team of beloved actors if we ever heard one. All three leads have frequently worked with the prolific Murphy, as he tends to cast a rotating roster of performers in his various projects. Bates has appeared on four previous installments of FX's horror series — Coven, Freak Show, Hotel, and Roanoke. Evan Peters has had roles on all of Kathy's seasons, as well as Murder House and Cult. Paulson starred in all seven seasons of AHS and 2016's critically acclaimed first season of American Crime Story. Kathy has been working on the Netflix sitcom Disjointed, but it was canceled after just one season. Welcome back to the Murphy-verse, Kathy!
Rumors and speculation about American Horror Story's eighth chapter are still swirling, as information surrounding its exact plot hasn't been confirmed as of yet. "It's a projection story," Ryan Murphy hinted at the Television Critics Association, which means it will take place in the future. And its apparently going to be unlike anything we've seen before.
"I pitched it to [FX chief] John Landgraf today right after his TCA panel, and he loved it, but he's asked me not to say what it is," Ryan Murphy also explained. "I told him and he fell out of his chair with joy. I think people will like it, it's different from what we've done before, but I always try and do the opposite of what I've done on that show."
Opposite? So, you're saying we won't be ridiculously terrified after watching every episode? Unlikely.
There's also a theory floating around that the upcoming season will be titled "American Horror Story: Radioactive," per a tweet that reported a trademark had been filed for the name by Twentieth Century Fox.
Viewers can also expect Sarah Paulson to rock some serious headgear. Or something. "Sarah Paulson is very excited about the dental appliances she will be wearing on the show," Ryan Murphy hinted. We think a seasoned pro like Sarah can handle any wardrobe situation.
American Horror Story usually airs in the fall, so we're probably looking at a September or October premiere for Season 8. Ryan Murphy is one of the busiest people in Hollywood, juggling a handful of projects, both old and new. The second season of American Crime Story wraps up this week. Feud's second season, which will focus on Charles and Diana's royal divorce, is slated to air in late 2018. The freshman season of Murphy's '80s-set musical drama Pose is set for a summer 2018 debut. AHS alum Evan Peters is also starring in Pose. Oh, the fascinating life of a Ryan Murphy player!
"Because of Ryan, my career opened," Kathy Bates told Vanity Fair of the AHS effect, crediting Ryan for "resurrecting" her career. "He really did it all. He brought me back to life during a difficult period in my life." Bates has been nominated for three Emmy Awards as a result of the show, winning one for Coven back in 2014.
I look forward to seeing Kathy show off her versatile acting chops when AHS returns. Even if I have to sleep with the lights on for a few months, the FX horror anthology is always worth the time (and the subsequent nightmares).