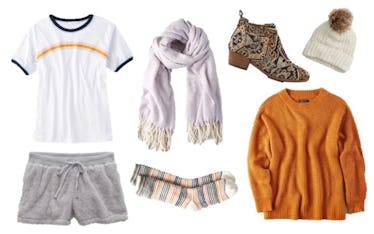 American Eagle's Black Friday Sale Is Made For Scoring All The Cozy Essentials
Calling all jean lovers and the girls who love their cozy clothes! This one is for you. You're the type of girl who just wants to live her best life. You want to wear clothes that make you feel good inside and out, while also showing off your personal style. Around the holidays, you pick out sweater dresses to wear to turkey dinners, and blanket scarves that are cozy and festive. A lot of sequins and glitter isn't necessarily your thing, but on a pair of shoes or thrown delicately onto a denim jacket — you're sold. Brands that support this comfortable yet stylish approach to fashion are your favorites to shop. So, you're already looking toward American Eagle's Black Friday 2018 sale in hopes of scoring some cozy essentials. (Girl, I'm right there with you.)
When you open your closet, it might be full of knits and earth tones. It's organized so that olives and maroons are on one side, and your denim is on the other. Somewhere in your room, there are at least a dozen white tees and long sleeves that are softer than a cloud. And on any given day, when you walk into the room, your best friends say, "Wow! You look so cute and comfy." You give them an excited nod in return. Why would anyone live their life any other way?
Especially throughout the winter, when the weather is cold, you bundle up in your sherpas and put on a flannel with a pair of fitted jeans and leather boots. Some think it's impossible to look cute when it's snowing outside, but you know the tricks of the trade. Layering is key, and so are accessories like printed socks that peak out from your shoes and beanies with pom poms on top. You need to pick up more of those items ASAP. Thank goodness for the American Eagle Black Friday deals, huh?
What is American Eagle's Black Friday 2018 sale?
American Eagle's Black Friday 2018 sale may feel like a total dream. But, I promise it's as real as their partner brand, Aerie. (See what I did there? *Winks.*)
Right now, the brand is running a 40 percent off sale that includes your favorite essentials, such as jeans. This sale includes free shipping on online orders, and is promoted as "limited time" only on American Eagle's website. But, in the past, this deal has run through Black Friday, too. Elite Daily reached out to American Eagle to confirm any additional Black Friday and Cyber Monday offerings, and will update as soon as we hear back.
What products should you prioritize in the hustle and bustle of Black Friday?
Whenever I'm about to go shopping, I take a look at my closet. What products and pieces do I actually need, and which ones would be a sweet splurge? Sure, it would be nice to have that one-of-a-kind jacket that was online, but it would probably make more sense to pick up a pair of black jeans and a few sweaters that are good for layering — aka, the essentials.
Black Friday doesn't always give you this extra time to sit and contemplate your style choices, though. It's a hustle and bustle from the minute the doors open to your favorite stores. So, it's key to see what's on your priority list right now, before you get to the register.
Maybe you want an oversized, mustard-colored crewneck sweater, or a tee that has a rainbow across the front. These items can pair so easily with other things in your closet, while also keeping you on trend. As you may already know, American Eagle is a prime spot for denim, too. So, that distressed pair of jeans you've had your eye on since summertime is definitely a good idea.
Personally, I'd also consider what stocking stuffers you can pick up on Black Friday at American Eagle with these deals. Accessories like gold necklaces that have a boho touch, striped socks, and cozy scarfs all make a great gift for your sister, cousin, or best friend. OK, ready, set, shop! (And don't forget to pair your cute outfit pics with the sweetest caption!)