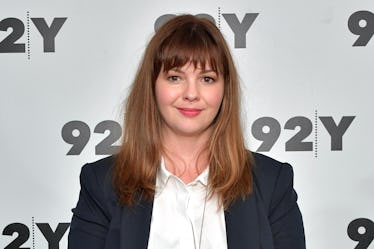 Amber Tamblyn Said She's Been Told To Lose Weight For Certain Roles & This Needs To Stop
Dia Dipasupil/Getty Images Entertainment/Getty Images
While the unrealistic standards that our culture has for women's bodies may be something that's acknowledged pretty frequently, it doesn't seem to change the fact that those standards continue to exist. It's no secret that those in the public eye are a major target for this kind of scrutiny, and actress Amber Tamblyn's quotes about being told to lose weight for her job represent yet another example of how far we have to go in squashing those BS standards once and for all. The silver lining, at least, is that we're lucky to have women like Tamblyn who are brave enough to speak out against the damaging and enduring reality of body policing and shaming.
E! News reports, at a recent press conference for her debut novel Any Man, Tamblyn spoke with New York Times journalist Jodi Kantor about some of the harrowing experiences she's had as an actress who's received unsolicited criticism of her body. Tamblyn reportedly told Kantor that after the success of Sisterhood of the Traveling Pants 2, she was told by an executive in the industry that she could be a huge star — as long as she lost weight. *Eye roll*.
According to E! News, Tamblyn recounted what she was told by her agent: "You can either be Nicole Kidman or you can be a character actress."
Per the entertainment news outlet, during her talk with Kantor, Tamblyn reportedly said,
I think at that point I was 128 pounds and I'm 5-7.
And at that time, I was like 21 years old, so if you look at that and use that as an example and imagine that for over two decades, forms of that from when you're a child to all the way up, it does something to you.
What's even more frustrating is that, according to E! News, Tamblyn reportedly told Kantor this particular experience was just one example of multiple "violating experiences" she's faced throughout her career as an actress:
They were always different forms of being shut out of conversations or being boxed out of different places in which I know my voice should exist or being told under certain circumstances I had to look a certain way or I was going to fail.
Tamblyn, who's also had a leading voice in the "Time's Up" movement, has consistently been outspoken on matters of gender inequality in Hollywood and the culture at large. She was, in fact, at the forefront of the movement among actresses to wear black to the 2018 Golden Globes as a subtle, yet uniform way to reject sexist standards in the entertainment industry and express that change was (and is) coming.
As she wrote in a New York Times op-ed in January of 2018,
Women have always had to carry the burden of molding the shapes and sizes of our bodies to the trends and tastes of others, at any cost. We are assigned a look. We don't get to choose.
"You must dress a certain way and look a certain way if you want to be valued as a woman, no matter what you do for a living or who you are," Tamblyn wrote in the article.
Pretty badass, if you ask me.
Tamblyn went on to write in the op-ed that she's often wondered what would happen, and what it would look like, if actresses were to "uniformly reject" the way they are expected to present themselves. "We belong to no one," she wrote.
Here, here, Amber. And here's to hoping voices like hers are heard above all the body-shaming BS.