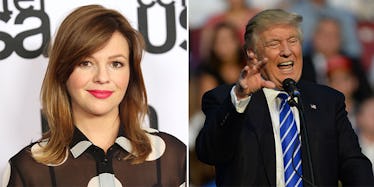 Amber Tamblyn Shares Abuse Story In Response To Trump: My Ex Grabbed Me By 'My Pussy'
REX/Shutterstock
Actress Amber Tamblyn opened up about an abusive relationship in response to the Donald Trump tapes that were released on Friday.
In the tapes, which were recorded in 2005 while Trump was appearing on an episode of "Access Hollywood," he talked about kissing women without their consent and how he believed his celebrity status gave him the right to do so.
Grab them by the pussy. You can do anything.
After this conversation was revealed, many women shared their stories of being assaulted, including by men grabbing their crotches.
Tamblyn posted her own story on Instagram on Sunday morning, hours before the second presidential debate between Republican nominee Trump and Democratic nominee Hillary Clinton.
She wrote that she had been in an emotionally and physically abusive relationship with a man many years back. After she ended the relationship, she was at a show with some friends when the ex showed up.
Tamblyn wrote,
The minute he saw me, he picked me up with one hand by my hair and with his other hand, he grabbed me under my skirt by my vagina -- my pussy? -- and lifted me up off the floor, literally, and carried me, like something he owned, like a piece of trash, out of the club. His fingers were practically inside of me, his other hand wrapped tightly around my hair. I screamed and kicked and cried.
He roughly carried her out of the building, as her friends and his brothers "intervened." But he kept grabbing for her, ripping off her grandmother's necklace. Eventually, they were able to pull Tamblyn away from her abusive ex.
Tamblyn wrote,
That part of my body, which the current Presidential Nominee of the United States Donald Trump recently described as something he'd like to grab a woman by, was bruised from my ex-boyfriend's violence for at least the next week.
She said she had trouble wearing jeans and slept with a pillow between her legs.
The "Sisterhood of the Traveling Pants" star wrote that she shared this story with the support of her husband. But, Tamblyn said, her parents hadn't heard this story. She wrote,
I remember the shame. I am afraid my mom will read this post. I'm even more afraid that my father could ever know this story. That it would break his heart. I couldn't take that.
Tamblyn ended the post by saying simply that she had to tell her story.
The Instagram post was a photo of Trump kissing a pageant participant on the cheek. Tamblyn concluded her post simply, saying,
Enjoy the debates tonight.
Tamblyn has been a supporter of Clinton. She has been out campaigning for the Democratic nominee and was at the Democratic National Convention in Philadelphia this summer.
The second presidential debate is Sunday night, starting at 9 pm EST.
Elite Daily and 50 other media organizations partnered with Rock The Vote to register 100,000 women to vote. You can register right here (and men can use it too) :
Citations: The Guardian