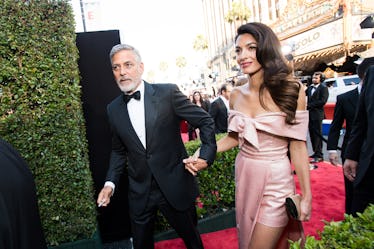 Amal & George Clooney Are Donating A Lot Of Money To Migrant Kids & I'm Inspired
Emma McIntyre/Getty Images Entertainment/Getty Images
The recent separation of immigrant children from their families at the border is truly heartbreaking, but the good news is that it's inspiring people to step up and try to help. Well, Amal and George Clooney's donation to migrant kids is just one way to help the fight. Way to go, you two.
On June 20, the couple announced that their Clooney Foundation for Justice donated $100,000 to the Young Center for Immigrant Children's Rights, which is a human rights advocate group for immigrant children. Human rights lawyer Amal Clooney announced the donation through a public statement that says that although they can't change the administration's policy, they'll still help those who are so severely affected by it. She said,
At some point in the future our children will ask us: is it true, did our country really take babies from their parents and put them in detention centers? And when we answer yes, they'll ask us what we did about it. What we said. Where we stood. We can't change this administration's policy, but we can help defend the victims of it.
Following the Clooney Foundation for Justice's donation, Young Center's executive director, Maria Woltjen, spoke about the importance of this investment and how grateful the organization is for the support. Woltjen said,
This Administration's policy disregards international law and basic principles of human decency. To treat children in such a cruel manner not only violates their legal rights but also their basic needs. We are doing everything we can to advocate on behalf of the thousands of children who are separated and alone, and we are grateful for the generous support of George and Amal Clooney and the Clooney Foundation for Justice — it could not be more vital at this time.
To be honest, it's not really surprising that this power couple decided to step up and make this donation. Not only is Amal Clooney an extremely distinguished human rights lawyer, but George has taken part in a few activist activities of his own, especially in regards to environmentalism. In fact, this donation to the Young Center is just one of a few philanthropic efforts the Clooney Foundation has done over the years, partnering with Southern Poverty Law Center, working with UNICEF to assist Syrian refugees with getting an education, and donating $500,000 to March For Our Lives.
Time and time again do the Clooney's prove that not only are they the best looking couple in town, but they're also the most inspiring.
The recent crisis of separating immigrant children from their families at the border has resulted in devastating images of scared children and stricken parents. On June 20, Trump signed an executive order that would stop this separation, but unfortunately nothing in the order addresses reuniting the 2,300 separated children with their families immediately. This is a vicious oversight of a huge problem happening right now, so it's more important than ever that notable figures such as the Clooney's step up and take action to help as much as they can.
The image of children being ripped away from their parents must be a hard sight to see for these two. In June 2017, Amal and George Clooney welcomed their twins Alexander and Ella into the world. The couple's representative confirmed the news to E! News in a statement.
The statement said,
This morning Amal and George welcomed Ella and Alexander Clooney into their lives. Ella, Alexander and Amal are all healthy, happy and doing fine. George is sedated and should recover in a few days.
Although this year has been a whirlwind politically, it's reassuring to know that people such as Amal Clooney will always fight for those in need. I can only imagine the amazing people Ella and Alexander will become under this couple's wing.