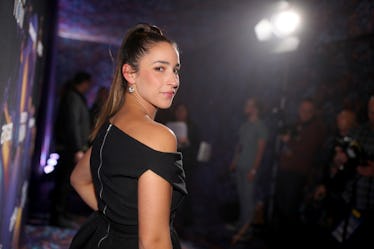 Aly Raisman Took A Major Step In Her Fight With The Olympics Over Larry Nassar's Abuse
Christopher Polk/Getty Images Entertainment/Getty Images
On Friday, March 2, it was announced that Aly Raisman is suing the U.S. Olympic Committee (USOC) and USA Gymnastics (USAG) for their lack of action to prevent her from being sexually abused by disgraced former doctor Larry Nassar. The lawsuit was filed in California Superior Court earlier this week, and the defendants listed include the USOC, USA Gym, former USAG president Steve Penny, former USAG board chairman Paul Parilla, and Nassar himself, according to The New York Times. Raisman was one of over 250 women and girls who claimed that Nassar abused them in his capacity as an athletic doctor.
"I refuse to wait any longer for these organizations to do the right thing. It is my hope that the legal process will hold them accountable and enable the change that is so desperately needed," Raisman said in a statement obtained by NBC News.
In her lawsuit, Raisman is requesting a jury trial for the serial abuse of herself and 500 unnamed people by Nassar that, the suit claims, could have been prevented by USAG and the USOC. Elite Daily has reached out to USA Gymnastics and the USOC for comment, but did not hear back at time of publication.
Nassar was sentenced to a total of 140 to 310 years in jail on both federal child pornography and criminal sexual conduct charges. He pleaded guilty to those charges, saying that the abuse was committed in the course of his work as an athletic doctor. Nassar worked with USA Gymnastics as well as Michigan State University (MSU). In January, the sentencing trials for the 10 criminal sexual conduct charges made national headlines as the judges allowed his accusers to deliver statements against him one by one. The statements lasted days as almost 200 women and girls delivered victim impact statements in court.
Raisman delivered her own powerful statement in court in January. Since coming public with allegations against Nassar last November, the two-time Olympian has been outspoken about the need for full systemic reform within USA Gymnastics and the USOC. Raisman said in her victim impact statement in January,
It's easy to put out statements talking about how athlete care is the highest priority, but they've been saying that for years, and all the while, this nightmare was happening. False assurances from organizations are dangerous, especially when people want so badly to believe them. They make it easier to look away from the problem and enable bad things to continue to happen. Even now, after all that has happened, USA Gymnastics has the nerve to say the very same things it has said all along. Can't you see how disrespectful that is? Can't you see how much that hurts?
Following the publicity of the Nassar case, both USAG and the USOC put out statements in which the organizations announced changes to the programs and their leadership. Just this Wednesday, Feb. 28, USOC CEO Scott Blackmun resigned for health reasons as the organization announced continued work for reform, including providing new funding and resources to support victims of Nassar as well as offering current and former athletes a voice in decision-making within the USOC. Raisman, meanwhile, has been critical of an independent investigation the USOC announced in January of themselves and USAG, saying it is not wide-reaching enough.
On Thursday, March 1, USAG president and CEO Kerry Perry, who took over after Steve Penny resigned under pressure of the Nassar case, published a "message to the community" about changes the organization is making to protect athletes. She listed actions that have already been taken in response to the Nassar case, including support for the USOC's and Congress' independent investigations and the creation of an athlete assistance fund to provide money for athletes who were abused for counseling. Her message also noted, "We understand that litigation can be full of uncertainty, but the leadership of USA Gymnastics seeks resolution and healing for all of our athletes and will move forward to build a culture of empowerment together."
"After all this time, they remain unwilling to conduct a full investigation, and without a solid understanding of how this happened, it is delusional to think sufficient changes can be implemented," Raisman said in her statement this week about the lawsuit.