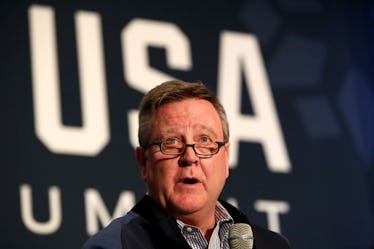 The Head Of U.S. Olympics Resigned After The Larry Nassar Case
Maxx Wolfson/Getty Images
On Wednesday, Feb. 28, it was announced that Scott Blackmun resigned from the U.S. Olympic Committee (USOC). The announcement came from the USOC days after the 2018 PyeongChang Winter Olympics ended and about a month after disgraced USA Gymnastics doctor Larry Nassar had a high-profile sentencing trial for 10 counts of criminal sexual conduct, which he committed in his capacity as an athletic doctor. Many people had called for Blackmun's resignation as CEO of the USOC in the wake of the Nassar case, and the resignation comes as the USOC is attempting to make amends for the abuse that occurred under its watch.
According to a statement from the USOC, Blackmun's resignation is due to his "ongoing health issues resulting from prostate cancer." Susanne Lyons, who is a member of the USOC board, is taking over as acting CEO as the committee looks for a permanent replacement.
Although the official reason for Blackmun's leaving the committee is his health, the announcement came as part of a statement about actions that the U.S. Olympic Committee is taking to ensure athletes' safety from future abuse. "Given Scott's current health situation, we have mutually agreed it is in the best interest of both Scott and the USOC that we identify new leadership so that we can immediately address the urgent initiatives ahead of us," USOC Chairman Larry Probst said in the statement. Probst added that "the important work that Scott started needs to continue and will require especially vigorous attention in light of Larry Nassar's decades-long abuse of athletes affiliated with USA Gymnastics."
Nassar served as a team doctor for the national women's gymnastics team, which included attending the Olympics and working with the women leading up to the games. However, Nassar abused his position there by sexually assaulting the young women and girls on the team (as well as other young women and girls outside of USA Gymnastics who sought him out for treatment). Over 260 women claimed that Nassar abused them, and he pleaded guilty to federal child pornography and criminal sexual conduct charges. He was sentenced to a total of 140 to 310 years in jail for those charges. Several Olympic athletes and medalists, including Simone Biles, Gabby Douglas, Aly Raisman, Jordyn Wieber, McKayla Maroney, and Jamie Datzscher, claimed that Nassar abused them.
Many of the victims and their families — including, most prominently, Raisman — have been calling for overarching systematic changes to USA Gymnastics and the USOC for the abuse happening under their watch. USA Gymnastics and the USOC are undergoing major changes to account for that and to protect athletes from any future abuse. On Jan. 24, Blackmun released an open letter listing changes that had to be made at both USA Gymnastics and the USOC, including that the USA Gymnastics board should be made up of totally new members, and apologizing to the survivors as "the Olympic family is among those that have failed you." He also announced that the USOC launched an independent investigation on USA Gymnastics and USOC, noting that the results would be made public. This was a move that Raisman applauded, with some caveats — mainly that the investigation should be deep and without interference.
In the Feb. 28 statement announcing Blackmun's resignation, the USOC also announced several new initiatives, including providing new funding and resources to support victims of Nassar and giving current and former athletes a voice in decision-making within the USOC. The new announcements also included forming an advisory board to "guide the USOC on stronger safeguards against abuse throughout the Olympic community" and reexamining SafeSport, which is a policy that's supposed to protect athletes' health and safety.
On March 1, USA Gymnastics president and CEO Kerry Perry released her own statement listing changes that organization has made and is making in response to the Nassar case. This included creating a toll-free number, email address, and online form for athletes to report abuse, and creating an athlete assistance fund to give survivors money for counseling.
"I am proud of what we have achieved as a team and am confident that Susanne will help the USOC continue to embody the Olympic spirit and champion Team USA athletes during this transition," Blackmun said in the announcement of his resignation.