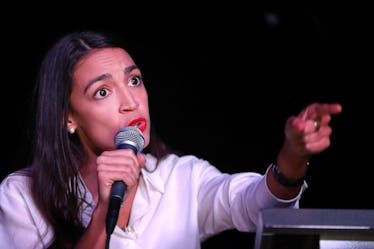 Donald Trump Jr. Started A Feud With Alexandria Ocasio-Cortez, So 2018 Is Ending On Brand
Rick Loomis/Getty Images News/Getty Images
Haven't we been here before? If you blast or make fun of Alexandria Ocasio-Cortez, she'll come right back at you, but even harder. That's a lesson Donald Trump Jr. learned the hard way after he shared a meme criticizing her democratic socialist views to Instagram on Dec. 6. If you haven't seen it, Alexandria Ocasio-Cortez's response to Donald Trump Jr.'s meme about her will make you cringe with embarrassment.
Responding to a meme posted by Trump Jr. that suggested her ideology would lead to Americans eating dogs, Ocasio-Cortez called out Trump Jr. on Dec. 7 for "trolling" and posting "nonsense" about her whenever the Russia probe in brought back into the spotlight. (As of late, the topic has dominated headlines for new developments, including the "substantial assistance" Michael Flynn gave to investigators and Trump Jr.'s reported worries that he could be indicted in the probe.) She also encouraged him to keep the insults coming while reminding him of some potentially rocky days ahead. Elite Daily reached out to representatives of Trump Jr. regarding his post and Ocasio-Cortez's response, but did not immediately hear back. Ocasio-Cortez's message, shared to Twitter, read:
I have noticed that Junior here has a habit of posting nonsense about me whenever the Mueller investigation heats up. Please, keep it coming Jr - it's definitely a 'very, very large brain' idea to troll a member of a body that will have subpoena power in a month.
"Have fun!" she added.
Ocasio-Cortez: 1. Trump: 0.
The moment marks yet another time that Ocasio-Cortez has shown that she isn't afraid to hit back at her critics. The congresswoman-elect also called out Fox News back in November for its comments on her wardrobe, namely her supposed "expensive taste." In a message shared to her Twitter on Nov. 23, Ocasio-Cortez posted the Aventura lyrics, "No, no es amor/ Lo que tú sientes, se llama obsesión." That roughly translates from Spanish to English, "No, it's not love, what you feel is called obsession."
To add insult to injury, she also followed up with a recommendation for her non-Spanish speaking followers: Mariah Carey's 2009 song "Obsessed" — and Twitter, of course, loved it. Elite Daily reached out to Fox News for comment on Ocasio-Cortez's response at the time, but did not hear back.
Just over a week before that, on Nov. 15, she also slammed reporter Eddie Scarry, who appeared to take aim at her for her fashion choices. Days after Ocasio-Cortez revealed that she was having financial difficulties in a New York Times interview, Scarry shared a photo of Ocasio-Cortez from behind, which appeared to be taken without her knowledge, writing that her outfit didn't "look like a girl who struggles."
Ocasio-Cortez took the comment in stride, though, tweeting that she would be criticized regardless of what she chooses to wear. "That's why you tune it out," she wrote. "Shine bright & keep it pushing."
Scarry then deleted his tweet and shared an apology saying it was meant as a compliment, but Ocasio-Cortez wasn't letting up. "Does [he] think he can delete his misogyny without an apology? I don't think so," she added.
Oof.
The point is, if you're thinking about criticizing Ocasio-Cortez in ways like this, don't — or else. Just saying.