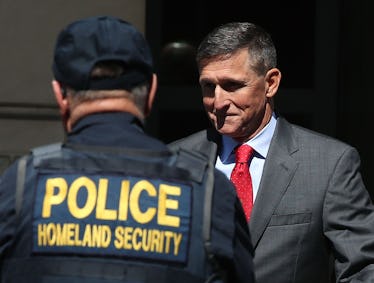 Michael Flynn Gave "Substantial Assistance" In The Russia Probe, So Get Ready
Mark Wilson/Getty Images News/Getty Images
Things are really heating up in the Russia investigation. On Tuesday, Dec. 4, FBI Special Counsel Robert Mueller, who is leading the probe into potential collusion between Russia and the 2016 Trump campaign made a sentencing recommendation for former National Security Adviser Michael Flynn, which revealed the extent of his cooperation with the investigation. Up until this point, the fruits of what he shared with investigators had been widely unknown, but on Tuesday, Mueller announced that Flynn gave "substantial assistance" to the investigation. Because of that, Mueller said in Michael Flynn's sentencing memo that he should receive a light sentence for previously lying to the FBI.
According to Mueller's sentencing recommendation filing, Flynn gave 19 interviews to Mueller's team and Justice Department attorneys related to the Russia probe, as well as a separate, previously unknown criminal investigation. "The defendant provided firsthand information about the content and context of interactions between the transition team and Russian government officials," the memo says. Sadly for those wanting details, most of the information regarding what exactly Flynn might have said is redacted in the text, but the amount of censoring alone is telling regarding how much information he could have shared with investigators.
Thanks to all Flynn apparently shared, Mueller wrote in his filing that it would be "appropriate" and "warranted" for the judge to sentence the retired Army lieutenant general to no prison time. According to Reuters, Flynn will be sentenced on Dec. 18.
To rewind ever so slightly, back in December 2017, the disgraced adviser pleaded guilty to giving false statements to the FBI about his contacts with Russian officials during the presidential transition, making him the first senior White House official to cut a cooperation deal in the Russia investigation, according to The New York Times. He faces five years in prison for the matter. But under his plea deal, which reportedly required Flynn's full cooperation, he is expected to spend zero to six months in prison.
In a statement shared to the Times after his guilty plea, Flynn said his decision to cooperate with Mueller was made in the best interests of the United States. It read:
I recognize that the actions I acknowledged in court today were wrong, and, through my faith in God, I am working to set things right. My guilty plea and agreement to cooperate with the special counsel's office reflect a decision I made in the best interests of my family and of our country. I accept full responsibility for my actions.
While the filing noted that the scope of Flynn's cooperation may not yet be "fully realized" because "the investigations in which he has provided assistance are ongoing," there has been broad speculation that there are admissions that should worry President Donald Trump and his aides. Trump, however, has maintained that he did nothing wrong and that there was no collusion with Russia. He's also repeatedly lashed out at Mueller, claiming that he's pressuring witnesses to lie for him and calling his Russia investigation a "witch hunt."
Dra-ma. Let's keep our eyes open for how this pans out...