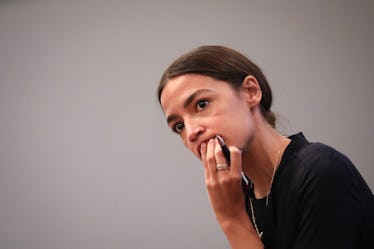 Alexandria Ocasio-Cortez Has A Super Relatable Problem With Moving To D.C.
Drew Angerer/Getty Images News/Getty Images
Democratic wunderkind Alexandria Ocasio-Cortez might be the youngest woman to be elected to Congress, but that doesn't mean she's immune to the problems that people her age deal with. In an interview with The New York Times, the congresswoman-elect revealed that she's doesn't have the money needed to get a place in Washington D.C. before her term kicks in. Although Alexandria Ocasio-Cortez can't afford rent in D.C. right now, at least she's staying optimistic about it and knows that she's not alone in this problem.
She opened up about her money struggles in a Nov. 7 interview with the New York Times after her landmark midterm victory the previous day, telling the outlet that she won't be able to afford D.C. housing until her job starts in January. She explained that the transition period will be "very unusual, because I can't really take a salary. I have three months without a salary before I'm a member of Congress. So, how do I get an apartment? Those little things are very real." It seems almost impossible to pull off. According to property rental site Rent Cafe, the average cost of a one-bedroom apartment in Washington D.C. is $1,996. When she's making $174,000 per year as a member of Congress, that'll probably be like spare change to her. But given the fact that she was working at a restaurant before her congressional run, well, it doesn't look all that feasible.
Luckily, Ocasio-Cortez saved money from her days as a bartender at a Union Square restaurant, and said living without income is something she and her partner planned for, so hopefully the funds will hold her over until January. "We're kind of just dealing with the logistics of it day by day, but I've really been just kind of squirreling away and then hoping that gets me to January," Ocasio-Cortez added.
Millennials have probably never related to a politician more.
Despite her current situation, Ocasio-Cortez urged her followers not to worry about her in a tweet shared on Nov. 8, writing that she's "working it out!"
"There are many little ways in which our electoral system isn't even designed (nor prepared) for working-class people to lead," Ocasio-Cortez tweeted. "This is one of them (don't worry btw - we're working it out!)"
She also stunned the world when she won in her bid for New York's 14th District on Nov. 6., making her the youngest woman to join the U.S. House of Representatives at the age of 29. She ran on a progressive platform that included a $15 minimum wage, universal Medicare, free college for all, and the abolition of the U.S. Immigration and Customs Enforcement (ICE), which seemed to resonate with voters because she beat Republican challenger Anthony Pappas by a landslide. She earned a stunning 78 percent of votes, while Pappas earned 13.8, per The New York Times.
She's made the seemingly impossible, possible, is what I'm saying. With any luck, I'm sure she can make the same happen with this rent situation.