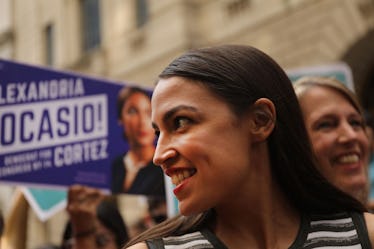 Twitter Is Loving Alexandria Ocasio-Cortez's Creative AF Song Lyric Clapback To Fox News
Spencer Platt/Getty Images News/Getty Images
The constant commentary about Alexandria Ocasio-Cortez's wardrobe is getting old, and the newly-elected congresswoman is hitting back at the latest criticism with the most fitting comeback. Ocasio-Cortez, who made history as the youngest woman ever elected to Congress in November, has since been the subject of conservative outlets focusing not on her milestone achievement or her political talking points, but on her clothes. On Friday, Nov. 23, Fox News hosted a four person panel, and the talk turned once again to the 29-year-old's wardrobe and her "expensive taste," according to The Hill. Alexandria Ocasio-Cortez's response to Fox News discussing her shoes used the perfect song lyrics, because TBH, a politician's choice of clothing should be the last thing we're talking about at this point.
On Friday, Ocasio-Cortez re-tweeted Twitter user Andrew Pestano's post that ".... @FoxNews has a four-person panel talking about @Ocasio2018's shoes in primetime." While there is no clip of the Fox News segment detailing exactly what the panel was talking about in reference to her footwear, Ocasio-Cortez came back with a hilarious response that shows she's not going to waste any more time talking about her clothes, and that quoting Aventura lyrics is always the way to go when clapping back at critics.
"No, no es amor/ Lo que tú sientes, se llama obsesión," she wrote to her 1.32 million followers, which roughly translates from Spanish to English, "No, it's not love, what you feel is called obsession," and the Twitterverse is losing it over the shady Aventura song reference.
Ocasio-Cortez kept the barbs coming as she responded to fans, recommending "Obsessed" by Mariah Carey for non-Spanish speakers and writing, "Don't worry, Fox News has made it clear that they are far superior to + more intelligent than me, who they've called a 'little, simple person,' so I'm sure catching up to me in spoken languages shouldn't be a problem for them" in response to a fan joking that Fox News would need to hire a translator to understand her message. Elite Daily reached out to Fox News for comment on Ocasio-Cortez's response, but did not hear back at the time of publication.
One of the apparent members of said panel, Dr. Wendy Osefo, replied to the tweet that they also said, "[Ocasio-Cortez] earned her place in the history books..."
Even so, people were very much here for Ocasio-Cortez's response.
It's far from the first time that Ocasio-Cortez's wardrobe, which some conservative journalists have deemed too expensive for her left-leaning principles, has been under scrutiny since she won the Midterm race in early November.
Washington Examiner writer Eddie Scarry tweeted a since-deleted photo of Ocasio-Cortez's backside, writing, "Hill staffer sent me this pic of Ocasio-Cortez they took just now. I'll tell you something: that jacket and coat don't look like a girl who struggles." Many took issue with the implication that working-class people who are really "struggling" shouldn't be owning anything beyond the bare minimum, including professional attire and coats, and Scarry later wrote, "ATTN! I posted a tweet earlier suggesting the incoming congresswoman looked well put together -- ELEGANT even -- despite suggestions she's struggled. The tweet was taken as something else, so I've deleted it!"
Meanwhile, Fox & Friends' guest host Katie Pavlich has criticized Ocasio-Cortez — who worked as a bartender before winning the primaries in June — for having "expensive tastes for a socialist." Referencing a $3,000 outfit and $600 shoes that she borrowed for a photoshoot with Interview magazine, Pavlich said, "I mean, I want a pair of $600 shoes. I think she should redistribute."
Ocasio-Cortez later clarified on Twitter that she didn't get to keep the clothes (which were on loan for the magazine's photo shoot), and that the obsession over her appearance and her wardrobe were an attempt to delegitimize her left-leaning political stance.
"The reason journos from @FoxNews to @dcexaminer can't help but obsess about my clothes, rent, or mischaracterize respectful convos as 'fights' is bc as I've said, women like me aren't supposed to run for office - or win," Ocasio-Cortez tweeted, continuing, "& that's exactly why the BX and Queens sent me here."
Hopefully the Aventura reference sticks, and it's the last time that Ocasio-Cortez — or really any female politician, for that matter — has to remind the media that it's time to fixate on her political policies, not how she should or shouldn't be dressing.