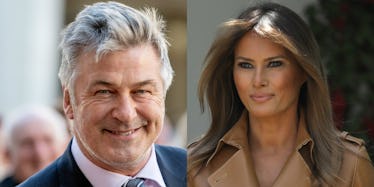 Melania Trump Got An Offer To Be On 'SNL' & OMG This Season Will Be Wild
Roy Rochlin/Getty Images Entertainment/Getty Images/Win McNamee/Getty Images News/Getty Images
Saturday Night Live is currently on its summer hiatus, but thanks to a recent tweet from Alec Baldwin, things might get very interesting next season. Baldwin famously portrays President Donald Trump on the weekly sketch show, and it appears that he has a suggestion as to who his next co-star should be. Alec Baldwin asked Melania Trump to "do SNL" with him, and I am now counting down the days until the show comes back in the fall.
Even though SNL aired its season 43 finale in May, Baldwin brought the show back to forefront of everyone's minds with a tweet on Saturday, June 23. According to Deadline, the tweet came from Baldwin's official ABFoundation (@ABFalecbaldwin) account, and it was directed at the first lady. The tweet was written in a letter format addressed to the first lady that started out, "Dear Melania..." The entire tweet said:
Dear Melania-
We know what you're thinking. What you're feeling. You are quaking w anticipation. Shuddering w a strange, newfound courage. Come. Come over to the light. We will welcome you as a hero in ways you never imagined possible. And then do SNL w me.
Sincerely, Alec
While Trump probably won't accept his offer, there appears to be a standing offer for the first lady to join Baldwin on the Saturday Night Live stage. 2018 is a weird time, y'all.
Trump's spokesperson, Stephanie Grisham, addressed Baldwin's comments in an email to Elite Daily, suggesting that Baldwin might have an unhealthy interest in the first lady. She says:
He mentioned her again? I used to say he was using her name for publicity, but now Im starting to think Mr. Baldwin may have a crush on Mrs. Trump that is becoming borderline obsessive.
So yeah, that doesn't seem likely to happen.
Baldwin didn't make clear his exact reason behind the offer, aside from his plea in the tweet for Trump to "come over to the light" and a reference to her "newfound courage." Even with a heartfelt Twitter plea, there doesn't appear to be a high likelihood that the first lady will join Baldwin and the SNL cast for a night filled with sketch comedy. Baldwin last mentioned the first lady in November 2017, when he said Melania might actually like his impression of President Trump. Back in a November 2017 interview on WNYC's The Brian Lehrer Show, Baldwin shared:
Someone told me — who's friends with someone in the White House, or formerly in the White House — that Melania Trump loves SNL, and she loves my impersonation.
Honestly, I'm not sure I am fully on board with a Melania Trump cameo on SNL, but I have a feeling that if it did happen, it would be must-watch television.
The tweet offer comes shortly after the first lady was all over the news on Thursday, June 21. Trump's visit to the U.S.-Mexico border to tour an immigrant children's shelter appeared to be a step toward figuring out how to reunite the over 2,000 migrant children forcibly separated from their parents at the southern U.S. border, due to the Trump administration's "zero tolerance" immigration policy.
Unfortunately, the publicity around the trip took a turn for the worse when images of the first lady's jacket revealed writing on her back that read, "I really don't care. Do U?" (The first lady's spokesperson said at the time not to read into the messaging and that it is "just a jacket.") This particular fashion statement from the first lady seemed so outrageous that some people wondered if photos of Trump in the jacket were even real. As unbelievable as it may have seemed, the first lady did don that message on her back after visiting the separated migrant children.
To make matters worse, President Donald Trump seemingly contradicted the "just a jacket" defense when he tweeted on Thursday, June 21 that the first lady wore it in reference to "the Fake News Media."
Even though SNL is a comedy show, it's likely President Trump views it with the same disdain he has for fake news. For example, in October 2016, the president tweeted about the "Saturday Night Live hit job" on him. He called the show "boring" and "unfunny," and he shared that he thinks the "Alec Baldwin portrayal stinks."
In March 2018, Baldwin revealed to The Hollywood Reporter that doing his impression of President Trump had become "like agony." In response, the president tweeted about Baldwin's "dying mediocre career" that "was saved" by Baldwin's "terrible impression" of Trump on Saturday Night Live.
With president's well-documented distaste for the show, it's not too probable that the first lady will take up Baldwin on his offer to join him on SNL. I guess you'll just have to wait until the season 44 premiere of the show to find out what drama we'll be seeing instead.