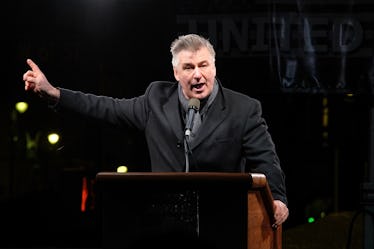 Alec Baldwin Claims Melania Trump "Loves My Impersonation" Of Her Husband, So That's Unexpected
D Dipasupil/Getty Images Entertainment/Getty Images
On Monday, Nov. 6, Alec Baldwin appeared in a interview with WNYC's The Brian Lehrer show saying that First Lady Melania Trump loved Baldwin's Donald Trump impersonation from Saturday Night Live (SNL). During the interview, Baldwin said, "Someone told me — who's friends with someone in the White House, or formerly in the White House — that Melania Trump loves SNL, and she loves my impersonation." Baldwin appeared on the show to promote his new book with co-author Kurt Anderson called, You Can't Spell America Without Me: The Really Tremendous Inside Story of My Fantastic First Year as President Donald J. Trump (A So-Called Parody).
Baldwin claimed the first lady, "told this person, very high up in the White House brass there, that, 'That's exactly what he's like.'" Elite Daily reached out for comment from First Lady Trump, but did not hear back at time of publication. On the contrary, President Trump has been very vocal about his disdain for the "unwatchable" show and "not funny" impersonations of him, for which Baldwin won a Emmy award. President Trump has tweeted about watching the show more than three times and concluded it's "boring and unfunny," but can't seem to turn the TV off. In a December 2016 interview with the Today Show, President Trump talked about how SNL has been on a slow decline ever since he hosted it in 2015, of course.
"Well, I hosted SNL when it was a good show, but it's not a good show anymore," President Trump told the Today Show. "There's nothing funny about it. The skits are terrible. I mean, I like Alec, but his imitation of me is really mean-spirited and not very good. I don't think it's good."
Baldwin claims that the first lady doesn't seem to feel the same way at all. During the interview, Baldwin said, "Apparently, Trump is horrified and beside himself that his wife actually thinks it's funny."
While Baldwin has been widely praised for his uncanny and comedic portrayal of President Trump, even Baldwin himself has questioned his impersonation's effect on the American public. In early October, Baldwin appeared on another WNYC podcast, Here's The Thing, with guest host Senator Bernie Sanders, in which he posed the question.
"In terms of Trump, do you think we're making him kind of little too cuddly and little too funny, and we're taking people's mind off something really more serious?" Baldwin asked.
To which Sanders replied, "What we have to focus on [with] Trump is what he is doing. Every day, he says something absurd."
While the country loves Baldwin's impersonation, Baldwin goes on to mention the difficulties of portraying Donald Trump at times on the show saying, "I did the Trump thing, and all this crazy shtick that they've had me do, which has been not a lot of fun, I have to say, channeling Trump."
Regardless of Baldwin's convictions with playing Donald Trump, he has show no signs of slowing down. The latest SNL episode, aired on Nov. 4, shows Baldwin as Donald Trump in a locker room shower with Vice President Mike Pence played by Beck Bennett, Attorney General Jeff Sessions played by Kate McKinnon, and Paul Manafort, played by Alex Moffat. The episode also poked fun at the Melania Trump body double rumor and addressed the Harvey Weinstein allegations.
While Baldwin may have concerns for the effect his impersonation has on the American public, it nonetheless gets people laughing about the absurdities of actual reality with the Trump administration, and because of the show's popularity and and his combined, I'm sure we will be seeing much more of Baldwin's Donald Trump for as long as he's in office.