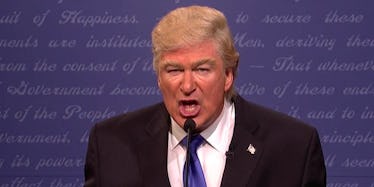 Alec Baldwin Had The Most Savage Emmys Acceptance Speech & It Was Amazing
NBC
Well, there's at least one person whose life got better once Donald Trump was elected president last November, and that's comedian Alec Baldwin. On Sunday night, thanks in large part to President Trump, Alec Baldwin snagged an Emmy for Outstanding Supporting Actor in a Comedy Series at the 69th Primetime Emmy Awards, for his role portraying Donald Trump on Saturday Night Live. And in thanking Academy of Television Arts & Sciences for this honor, Alec Baldwin dissed Trump in his Emmy acceptance speech, and it was truly a beautiful moment.
The first thing the 59-year-old comedian and actor said when he approached the podium on Sunday night was, and I quote,
I suppose I should say, at long last, Mr. President, here is your Emmy.
It got a huge laugh and uproarious cheers from the audience, thanks in large part to host Stephen Colbert reminding everyone in his opening monologue about Trump's long-held bitter resentment that his reality show, The Apprentice, never won an Emmy.
That wasn't the only burn Alec Baldwin had in his 2017 Emmy acceptance speech for the President of the United States. Baldwin went on to say,
I want to thank my wife. My wife and I had three children in three years, and we didn't have a child last year during the SNL season, I wonder if there's a correlation there. Once you put that orange wig on, it's birth control, trust me.
Woof! Now if that's not a solid Trump burn, I don't know what is. Then, after Baldwin got all his obligatory thank yous out of the way, the comedian also had a serious message for his fellow members of the creative arts industry. Baldwin ended his speech by saying,
I just wanted to say, and if I leave anybody out, I'm sorry, but I do want to get this in, which is: I always remember that someone told me, which is that once you die, you don't remember a bill that Congress passed, or a decision the Supreme Court made, or an address made by the president. You remember a song, you remember a line from a movie, you remember a play, you remember a book, a painting, a poem. What we do is important, and for all of you out there in motion pictures and television, don't stop doing what you're doing. The audience is counting on you. Thank you.
In other words, frick you political activists and and politicians! What you do means nothing, it doesn't matter if the policy isn't in place to protect basic human rights, what matters is Alec Baldwin making his beautiful art on a late night sketch comedy show. Just kidding, I know that's not how Baldwin meant it but... it did seem just a tad self-congratulatory. And also maybe a tad inaccurate, too. I'm just saying, I'm pretty sure gay, lesbian, and queer married couples are definitely going to remember that Supreme Court decision when they die. Maybe Alec Baldwin isn't thinking about U.S. policy that much because his basic human rights were always included in our country's policies since 1789? Just a thought!
Anyways, fans of Baldwin's Trump can celebrate this win. Baldwin was up against Louie Anderson for his role in the FX show Baskets, Ty Burrell for his role in the ABC show Modern Family, Tituss Burgess for his role in the Netflix Original Series Unbreakable Kimmy Schmidt, Tony Hale for his role in the HBO show Veep, and Matt Walsh, also for his role in the show Veep. But this year it was the year of Alec Baldwin, for better or for worse.