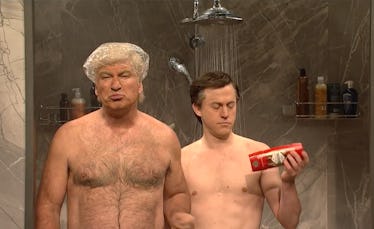 'SNL's' Cold Open Has Trump & Manafort In The Shower & It's Super Awkward
It comes as no surprise that SNL would tackle the topic of Paul Manafort's charges, but the location of choice for the skit was certainly... interesting. SNL's cold open has Trump and Manafort in the shower, and viewers were in for one awkward moment. Well, at least the shower is a good place to hash out ideas, right?
The skit opens with Paul Manafort (played by Alex Moffat) opening the door for none other than President Donald Trump (Alec Baldwin). In light of all the turmoil surrounding Manafort's charges, the commander in chief decided to pay a visit to his former campaign manager while he's under house arrest. That's when the idea strikes — to work things out "Gone Girl style"... in the shower.
"I brought you to the shower to make sure you weren't wearing a wire, Paul," the president says while donning a shower cap. He presents Manafort with a proposition to go to prison for a "very, very, very long time," but not before taking a crack at Harvey Weinstein. "What an idiot that Harvey Weinstein is," Trump said. "He could've gotten away with all of it if only he had gotten himself elected president."
"Body wash?" Trump asked Manafort. Have a look at all that went down in the shower.
As it turns out, the private time in the bathroom wasn't reserved for Trump and Manafort.
Vice President Mike Pence (played by Beck Bennett) joined the dynamic duo during their little powwow. However, Pence decided he wasn't going to strip down in the shower, as he's "not married to the water," a very rational approach. He kindly decided to help Manafort get his most hard-to-reach area: his back.
But the fun was only just beginning. Soon, the trio had another visitor: Attorney General Jeff Sessions (played by the hilarious Kate McKinnon). Much like Pence, Sessions decided to wear clothing during their time in the tub. "I'm wearing a bathing costume that I got from my favorite place: the 1890s," McKinnon's Sessions said. "I thought we should all get used to wearing stripes."
As per usual, fans couldn't help but love McKinnon's portrayal.
There's nothing like turning an awkward moment into an incredibly hilarious one thanks to McKinnon's take on Sessions.
While things were getting steamy in the shower, First Lady Melania Trump was left to fend for herself.
Though President Trump was supposed to go on an important trip, he obviously needed to sneak away to check on Manafort. Luckily, there was an oh-so-convincing body double that accompanied Melania on her travels. Dare we say, he's even better than the original?
Melania was astonished by the other Donald's behavior: his lack of insensitive jokes and mentions of fake news, his desire not to finish all of her dinner. It appears the first lady was truly impressed with what she saw. "Who knew that just by keeping your mouth shut you could be so presidential?" Melania (Cecily Strong) asked.
Though there were certainly humorous (albeit awkward) moments on SNL, the news about Manafort is anything but lighthearted. The indictment was made public on Oct. 30 and shows 12 charges against him, including conspiracy against the United States, conspiracy to launder money, unregistered agent of a foreign principal, false statements, and failure to file reports of foreign bank and financial accounts. Things are certainly getting messy in Washington, and time will tell what's in store for the president and his team. Meanwhile, people can always count on SNL to put an unusual twist on current events.
Check out the entire Gen Why series and other videos on Facebook and the Bustle app across Apple TV, Roku, and Amazon Fire TV.