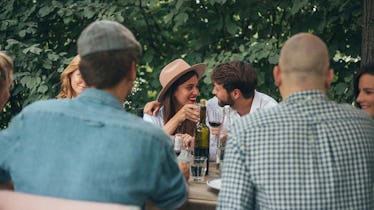 After You Meet Your SO's Parents, Watch Out For These 3 Warning Signs
Meeting the parents can feel like a make or break moment in your relationship. If it goes well, your bond with bae will be solidified even further — and you may have an easier time imagining a future together. After all, having the parental approval, while not required to have a happy and healthy relationship, can definitely be a major bonus. Suddenly, you may be included in holiday celebrations or family trips. But here's the thing: While it's pretty easy to figure out if you were a smashing success with the fam, it's not always easy to tell when something's amiss. That's why you may want to keep a lookout for certain red flags after you meet your significant other's parents.
"It's worth looking at your partner's behavior after you have met their parents for the first time because it could be a good indication on how it went," says Maria Sullivan, dating expert and VP of Dating.com.
That's not the only reason why you should observe your partner's behavior after you meet their parents, however. If you recognize certain signs, you may be able to gain insight into what they're thinking or feeling about the meeting, regardless of how it went. Here are a few red flags to look out for that may point to some problems under the surface.