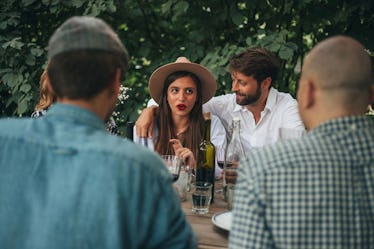 An Expert Says This Is What It Means If Meeting The Parents Doesn't Go Well, & Oh Boy
Meeting the parents can be a really big step in a relationship. It's both a sign that you're taking the relationship seriously and a test to see if you and your partner's parents will get along — not to mention, it's your first impression of them and them of you. It can be really stressful and a lot of pressure the first time you meet your partner's parents, especially if, like me, you spend the time leading up to meeting them imagining all they ways it can go wrong. Absolute torture.
The good news is that it usually doesn't go too wrong. Maybe there are some uncomfortable silences or there's a little first-meeting awkwardness, but for the most part it's not a Meet The Parents-level disaster. But (and I'm sorry to say this) sometimes it can be. Sometimes it just goes poorly. There can be lots of reasons why the meeting went sideways, and some are pretty benign and can be overcome, but some are serious, and should be taken as red flags that your relationship with your partner may be affected. The key is to know the difference and what to do moving forward. To help with that, I reached out to bestselling author and relationship expert Susan Winter, who broke down how to spot the red-flag situations and what to do about it. Here's what she says.