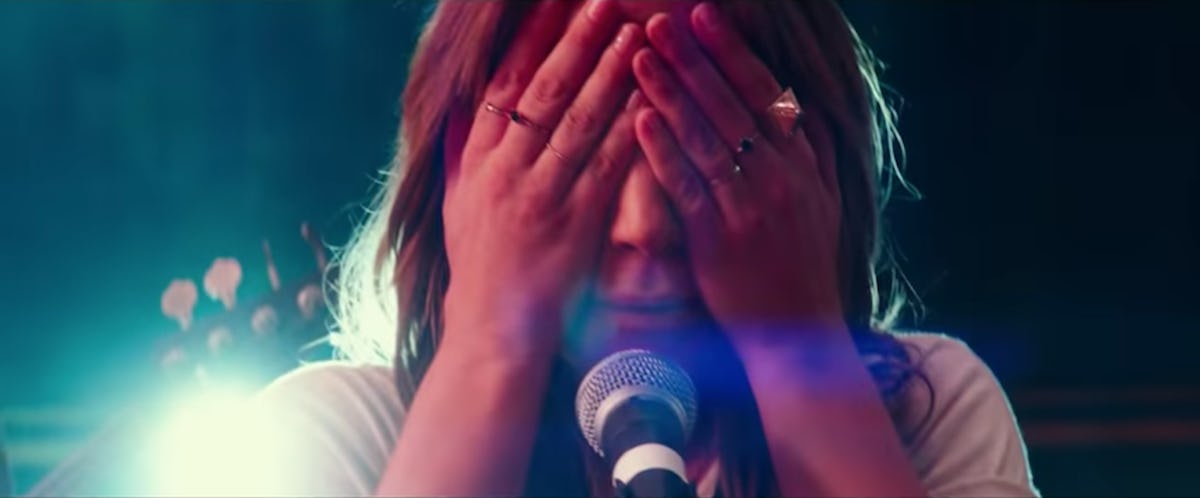 32 'A Star Is Born' Lyrics To Use As Captions That'll Tug On Your Heartstrings
Every generation has an iconic star. This is the singer-songwriter or actress of their time who takes the industry by storm and changes the game. Their name is known well into the next decades. But, sometimes, it's not just a person who makes the entire world stop and stare. No, sometimes, it's a film or story that just never gets old and puts you right into your feels — something like Bradley Cooper and Lady Gaga's latest remake of A Star Is Born. Now, these A Star Is Born lyrics for Instagram captions will tug on all your heartstrings, so grab a box of tissues before you start prepping that next post.
First thing's first: Who knew Bradley Cooper could sing? The entire film sets every piece of your soul on fire. But, from the second that this well-known actor comes onto the screen and leans into the microphone, you're in awe. His voice is slightly raspy. When you pair those beautiful sounds with his amazing blue eyes and scruffy face? Send help ASAP!
For those of you who don't know, the story of this film goes that Jack (played by Bradley Cooper) is a musician, dealing with alcoholism and the struggles of the music industry. He meets Ally (played by the incredible Lady Gaga), who is a young singer, at a bar and gets her to come out of her shell. Together, they write songs, contemplate life, and fall in love. The rest you have to see for yourself in the theater, because otherwise it's just a huge spoiler alert.
These songs in the film are worthy of jamming out in your car, or adding to your heart-to-heart playlists, and when you check out the lyrics, it's easy to see why. Use one the next time you're thinking about posting a sweet picture on social media, too. Those adventurous selfies or cute snaps with your significant other this fall deserve a few words that make your followers get in their feels.
1. "Tell me somethin' girl. Are you happy in this modern world?" — "Shallow"
2. "Maybe it's time to let the old ways die. It takes a lot to change your plans, and a train to change your mind." — "Maybe It's Time"
3. "When all the clouds darken up the skyway, there's a rainbow highway to be found." — "Somewhere Over the Rainbow"
4. "My heart is yours to borrow. Ain't nothin' meant to last." — "Alibi"
5. "You're music to my eyes. I had to listen just to find you." — "Music to My Eyes"
6. "Lovers in the night. Poets tryin' to write. We don't know how to rhyme but damn we try." — "Always Remember Us This Way"
7. "Laughing and loving. Tryin' to figure out the world." — "Is That Alright?"
8. "But I'm the kind of girl that always needs to be free." — "Why Did You Do That?"
9. "Dose me with your energy." — "Heal Me"
10. "I love you in the mornin' and when the day is done." — "Alibi"
11. "I'm fallin' in all the good times." — "Shallow"
12. "Let your melodies fly in my direction. Take me to your paradise, on a musical ride." — "Music to My Eyes"
13. "But I don't know what love is. And I think it might be you." — "I Don't Know What Love Is"
14. "It felt like summer when I kissed you in the rain. And I know your story, but tell me again." — "Is That Alright?"
15. "They're all just tryin' to be cool. So I wrote this song in my head." — "Hair Body Face"
16. "I hope it's okay if I love you forever." — "Vows (Dialogue)"
17. "People wanna hear what you have to say. That's the stuff right there." — "Memphis (Dialogue)"
18. "I'll never meet the ground. Crash through the surface, where they can't hurt us. We're far from the shallow now." — "Shallow"
19. "You look at me and babe I wanna catch on fire. It's buried in my soul like California gold." —" Always Remember Us This Way"
20. "I don't feel this way about everybody. Well good, we're on the same page." — "First Stop, Arizona (Dialogue)"
21. "It's the same story, told over and over, forever." — "Twelve Notes (Dialogue)"
22. "'Cause my world keeps turnin' and turnin' and turnin'." — "I'll Never Love Again (Extended Version)"
23. "What you have right now goes way beyond just this." — "Unbelievable (Dialogue)"
24. "A man loves a triple threat. Did the party room just see that?" — "Hair Body Face"
25. "I wanna sing you a sunrise, and be the dawn I know will move you." — "Music to My Eyes"
26. "When the sun goes down. And the band won't play. I'll always remember us this way." — "Always Remember Us This Way"
27. "A paradise in blue, every color I choose." — "I Don't Know What Love Is"
28. "All of your words are like poems to me." — "Is That Alright?"
29. "But don't take me for a fool. Now I know I got my own charm." — "Hair Body Face"
30. "Please don't tell me I'm too far gone." — "Too Far Gone"
31. "See the lights on the street like stars." — "Look What I Found"
32. "Ain't it hard keepin' it so hardcore?" — "Shallow"
Truth be told, you didn't need any other reasons to love the sound and strength behind Lady Gaga — but every song shows yet another incredible side of the star.
Odds are, if you already saw A Star Is Born and inevitably cried your eyes out into a bowl of popcorn, you've been streaming the soundtrack for a while now. You know every single word to now hits like "Shallow" and have your favorite dialogues. Your own life is starting to feel like a movie, with every emotional ballad that comes over your bluetooth speaker. But, if you haven't seen it, then these lyrics are making you want to hit up your local movie theater ASAP. Tugging on those heartstrings has never felt so good.