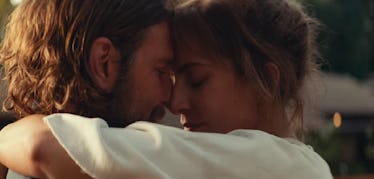 This Lady Gaga & Bradley Cooper Music Video From 'A Star Is Born' Will Give You Chills
Warner Bros. Pictures
Bradley Cooper and Lady Gaga's star-studded remake of A Star Is Born isn't in theaters until Oct. 5, but if you want to hype yourself up for the newest movie musical, one of its songs has officially hit the internet. If you live for the moment in the A Star Is Born trailer when music builds toward Gaga's belting, you're in luck, because we now have the full version of this song, "Shallow," to swoon over for the next week. The "Shallow" lyrics from A Star Is Born will stir dreams of your own heartfelt duets with Bradley Cooper, so it's time to start playing this on a loop ASAP.
Graciously blessing fans with this treat, Lady Gaga first debuted "Shallow" on Apple Music's Beats 1 Radio on Sept. 27 and then launched a music video for the song on her YouTube channel. Compiled of clips from A Star Is Born, the "Shallow" video even offers a near-complete look at the movie scene in which Cooper's grizzly singer-songwriter Jackson begins to play the song onstage. In the wings, Lady Gaga's performing novice Ally is nervous about joining in, but eventually reaches her microphone after taking a deep breath. In between glimpses of the performance, the video shows clips of Ally and Jackson becoming romantically involved, bonding over music, and hitting emotional breaking points.
In case Gaga's power belts have distracted you from the meaning of the song, taking a look at "Shallow"'s lyrics is definitely worth it. Cooper's raspy voice kicks off the ballad with a line that not only suits the insecure Ally, but likely appeals to many fans, reading:
Tell me somethin' girl / Are you happy in this modern world? / Or do you need more? / Is there somethin' else you're searchin' for?
Gaga's following lyrics accurately fit the jaded lone wolf that Jackson seems to be, saying:
Tell me something boy / Aren't you tired tryin' to fill that void / Or do you need more? / Ain't it hard keeping it so hardcore / I'm falling / In all the good times I find myself longing for change / And in the bad times I fear myself
The song's melancholy beginning disappears once Gaga reaches the sweeping chorus that seems to praise letting go of worries and insecurities in favor of chasing a dream. In the "Shallow" chorus, she sings:
I'm off the deep end, watch as I dive in / I'll never meet the ground / Crash through the surface, where they can't hurt us / We're far from the shallow now
A restorative power ballad is always a good idea, but when you toss in Lady Gaga's fierce vocals, "Shallow" has the makings of a hit. As of now, it's the only song from the A Star Is Born soundtrack available for streaming and downloading, but the rest of the album will launch on Oct. 5, the same day as the movie's United States release. Until then, I'll keep the "Shallow" track on repeat until I've mastered Lady Gaga's delivery of it.
A Star Is Born is in theaters on Friday, Oct. 5.