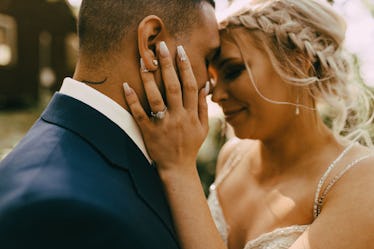 9 Wedding Photographers To Follow On Instagram For Pure Romance & Bliss
Whether you're getting married soon to the love of your life, or you get heart eyes for everything related to relationships, one thing is clear: There are social media accounts you seriously need to follow. These include dreamy venues, florists, makeup artists, and all the wedding photographers to follow on Instagram who capture romance and bliss on the reg.
Their photos are some of the most stunning content you'll see on your feed. They capture couples walking through the desert with a gigantic bouquet of flowers right after saying their vows, or in front of an epic waterfall on the West Coast. Some have a vintage vibe because they were taken on an old school camera or edited with the perfect amount of grain. Others are as elegant as can be, and ready to be turned into a coffee table book or beautiful photo album.
Whatever style they may be in, they capture a couple's special day at its finest — bringing endless amount of life to moments you never want to forget. They make every kiss, hug, first look, or laugh last a little bit longer. Here are the nine wedding photographers you should really be following for romance, bliss, and stunning pics.