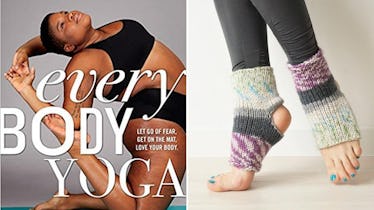 Yogis Would Definitely Appreciate Seeing These 9 Little Things In Their Holiday Stocking
Amazon/Etsy
Stocking stuffers, in my opinion, are one of the best parts of holiday gifting. Sure, the bigger presents might command more attention come Christmas morning, but there's something about diving into a stocking full of the coolest little goodies you never would've thought to get yourself that's just impossible to beat, if you ask me. If you have a friend who loves all things zen, then these stocking stuffers for yogis will be just the thing to light up her face and make this holiday her best one yet.
Everyone has a yogi friend. Don't you? You know her: She's always hanging around her favorite yoga studio, she can't help but do impromptu headstands (even in the most inappropriate of places), she basically lives in her favorite and comfiest pair of leggings, and she always has the best advice to dish out in the most compassionate way. She deserves the world, and, of course, a kickass stocking full of yoga-inspired goodies this holiday season.
Yogis are admittedly pretty easy to shop for, but if you need help coming up with a shopping list, here are nine gifts that are especially OM-mazing, and will make your favorite yogi squeal with delight when she digs through her stocking this year.