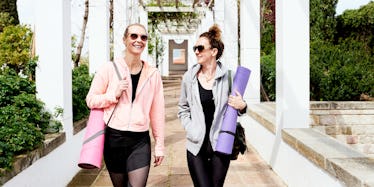 10 Creative Gift Ideas That Are Absolutely Perfect For The Yogi In Your Life
OK, real talk: The literal second that Halloween was officially over, I started blaring my holiday music like nobody's business — in the shower, in the car, even at the gym (you don't do deadlifts to the tune of "All I Want For Christmas Is You?"). Because I'm so shamelessly that girl around the holidays, it's hardly a surprise that I'm already beyond psyched to start gift-shopping, and as a yoga teacher, it's naturally part of my job to come up with some kickass yoga gift ideas for my fellow yogis, students, and favorite instructors.
The holiday season is magical AF, and there's so much to look forward to For me, shopping for gifts is honestly my favorite thing in the world, especially when it comes to treating my fellow yogis. There are so many ways you can get creative when you're coming up with super zen presents to put together.
If I had to think of one low-key drawback though, it's that my wallet is never, ever happy with me by the time I'm done with my shopping. The holiday debt is real, guys.
Worry not though, my dear yogis, as I've made sure to come up with a killer list of gifts that are all under $50 — yeah, you're welcome. Here are 10 unique gifts for the bendy babe in your life that aren't just another rendition of a "Namaste" coffee mug. We're all sick of that gift by now, amirite?