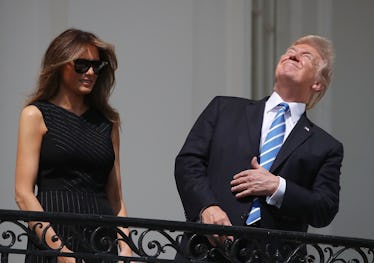 9 Funniest Tweets Of 2017 To Relive Before New Year's
Mark Wilson/Getty Images News/Getty Images
This year has been a smorgasbord of events, from the downright depressing to the side-splitting to the wildly absurd. And for better or worse, Twitter has been by our side through it all. Here are some of the funniest tweets that sum up 2017, because this year has been ridiculous.
Favstar keeps an ongoing database of the top tweets of all time, and some of them are absolutely genius. We'd be remiss if we didn't take a moment to pay homage to the tweet that broke Twitter history in August, posted by former President Barack Obama on Aug. 12, right after the Charlottesville attack. (None of Donald Trump's tweets made this year's most-popular list.)
On that note, let's get all the political tweets out of the way now.
King James Hath Spoken
After months of up-in-the-air deliberation over whether the Golden State Warriors would be visiting the White House to celebrate their basketball championships title, Stephen Curry announced in September why he wasn't down for going and meeting the president.
Trump, immediately after Curry's announcement, rescinded his invitation to the Warriors, saying, "Going to the White House is considered a great honor for a championship team.Stephen Curry is hesitating,therefore invitation is withdrawn!"
But LeBron James, of the Cleveland Caveliers, didn't let Trump off the hook.
Junior Doesn't Look Too Happy
And because political drama never fails to be the inspiration for humor, a still taken from Donald Trump Jr.'s appearance on Fox's Hannity in July prompted this hilariously apt descriptor. (For the record: This was the interview in which Junior said, "In retrospect, I probably would have done things a little differently" when he met with the Kremlin-linked Russian attorney in June 2016 for dirt on Hillary Clinton.)
United Airlines Fight Club
Not political but still equally cringe-worthy were the PR disasters United Airlines got pummeled with this year. Remember all those fun/disturbing videos we saw this year that made you never want to fly ever again? Perhaps most notable was the poor passenger who was forcibly dragged off an overbooked flight back in April. This came after an incident wherein two girls were forced to change into dresses because they were wearing leggings to board a flight in March. This, of course, was aside from the flight that got evacuated after a scorpion was discovered on board the plane. (We presume the scorpion was also forcibly removed from the flight.) Who could let 2017 slip away without honoring those memories with a photoshopped diagram? Apparently not this guy.
Carter's Chicken Nuggets
And though this gem of a tweet had no actual basis in current events or pop culture, its fame was well deserved. Everyone can relate to the irrational desire for fried food that prompts one to tweet at Wendy's for a hookup. Attempting to reach the 18 million-retweet threshold at which he would get a year of free chicken nuggets, Carter Wilkerson has made it admirably far, with 3.6 million and counting.
Interrupted House, 2017
This tweet by a parent was everyone's inspiration about how to make lemonade when life gives you lemons, or more precisely, when your child draws in marker on your walls. It also provided some much-needed humor in a trying time.
Jean Is Pretty Funny
It didn't take much for this hiliariously simple play on words to go viral.
The One Who's Not The Sea Lion
We can all relate to parents making embarrassingly descriptive and obvious posts on social media (we get it, Mom, cats are great). So it's no surprise this one got lots of love on Twitter.
Your UberEats Driver Has His Own Fun
Delivering food to hungry (probably impatient) customers is probably an exhausting job. But this driver doesn't seem to have lost his sense of humor.
Carol Kind Of Had It Coming
Someone apparently made a judgmental comment about this user (it didn't end well for Carol).
Hats off to everyone whose tweets broke the internet this year. We see you.