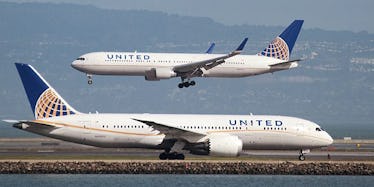 People Are Pissed At United Airlines For Banning Girls In Leggings From Flight
REUTERS
United Airlines got slammed this weekend for a decision that sparked a social media frenzy.
It all started on Sunday morning, when United prohibited two teenage girls from boarding a flight in the Denver International Airport.
The reason? The girls, who were wearing leggings at the time, were deemed to have been dressed inappropriately by United's standards.
As the girls were denied entry, Shannon Watts, a gun control advocate with a substantial Twitter following, happened to see the scene unfold.
Her tweets about what went down brought the first wave of attention to the story.
United soon found itself on the defensive...
On Twitter, the airline company replied to criticism by noting the whole incident was down to a technicality.
United tweeted it could reject people from boarding on account of a dress code for pass riders... but that did nothing to halt backlash.
By the afternoon, celebrities like Chrissy Teigen and Seth Rogen called out United.
Let's rewind to the end of January, when Kellyanne Conway called out people criticizing her inauguration outfit with a claim of her own about women who wear yoga pants.
She told the Hollywood Reporter,
Sorry to offend the black-stretch-pants women of America with a little color.
Yeah, she went there.
Case and point: No one should have the right to criticize what someone else puts on his or her body... which is exactly what people pointed out on Twitter about the United incident.
Some people were quick to focus on a more serious issue, calling United's policy "sexist."
Even the guy who hosted children's show "Reading Rainbow" got upset.
United's side of the story.
As the company told LeVar Burton on Twitter, it turns out the girls were flying courtesy of an employee benefits program.
The company, however, considers those flying under the program to be "representing"United, and imposes a dress code that restricts different types of clothing, like ripped jeans and spandex.
A United spokesperson named Jonathan Guerin revealed,
It's not that we want our standby travelers to come in wearing a suit and tie or that sort of thing. We want people to be comfortable when they travel as long as it's neat and in good taste for that environment.
Still, the specifics, technicalities and little details of the story weren't exactly clear on Sunday. All that seemed apparent early on was that an airline blocked two girls for wearing something that some people wear more than jeans.
That lack of clarity of contributed to a perfect storm where all the criticism rained down on United Airlines.