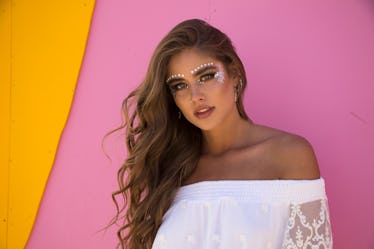 9 Temporary Tattoos To Get Last-Minute So You're Glowing At Coachella
Katie Stratton/Getty Images Entertainment/Getty Images
Spring isn't the only season that's sprung, and you're ready to have the time of your life this weekend at a festival. You bought your tickets what seems to be years ago, but now it's finally here! You and your besties are waiting for the work week to be over, and jet-setting as soon as possible. That Friday feeling takes on a whole new level when there's memories this legendary to be made. Odds are, you've already pack all your outfits and accessories. You're looking to stand out in the crowd, and these festival temporary tattoos might just be the last-minute thing you need to get so that you're totally glowing at Coachella.
Seriously, nothing adds a little bit of sparkle to your outfit better than a flash tattoo. You're already going to be in such a golden state of mind thanks to all of the music, so why not seal the stylish deal? Maybe you'll even get a real tattoo during this unreal weekend to commemorate such an amazing time surrounded by your squad.
Some will be stars to speak to the moon child in you, and others will be colorful prints that bring out your free-spirited side. Music festivals shine such a spotlight on fashion, and you'll see a thousand girls in flower crowns and the like while you're there. You know that the chances your favorite artist will see you in the crowd are slim, but with one of these 10 flash tattoos, you'll stand a fighting chance. Did somebody say glow up?