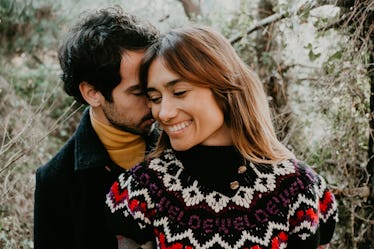 9 Dating App Opening Lines To Use This Fall That'll Make Your Match ~Fall~ For You
If you're approaching cuffing season with high hopes, open eyes, and zero ideas of how to actually approach a cutie, try some of these dating app opening lines for fall! These are specifically tailored to the season at hand, and are guaranteed to catch your match's eye and help you stand out from all the, "hey," "how are you," and "what's up" messages in their inbox.
Sending an opening line via a dating app might be easy peasy for you or it could be as challenging as the Sunday New York Times' crossword puzzle. The key is not overthink it, add a dash of humor, and be yourself! Of course, you could always be straight-up funny, unique, or stick with your tried-and-true openers. By since it's fall and pumpkin spice is wafting through the chilly air, why not send your match a message that embodies the changing of the seasons? Fall inspires images of cozying up by the fire, sipping some mulled cider, and bundling up in chunky layers. Of course, it's nice to imagine someone interesting, exciting, and hunky helping you take off those layers, so go ahead and check in on your apps. Of course, dating apps can be intimidating, but just remember you're wonderful, fabulous, and fantastic you, so let's get messaging!