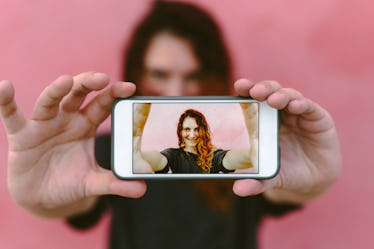 How To Feel Confident On Dating Apps If You Find Them Intimidating, So You Can Get Swiping
If you've recently decided to give online dating a try, then there's no doubt you've probably already downloaded a few dating apps to get started. First off, don't be nervous! Dating apps can be totally overwhelming at first, and rest assured you're far from the only one who's ever felt confused about how to work it online. How to feel confident on dating apps often starts with taking the time to zero in on your specific concerns and then addressing them.
"If you're new to using dating apps, there are so many questions that you may have," dating and relationship writer Demetrius Figueroa tells Elite Daily. "What's an appropriate thing to say in a first message? What should you put on your profile? How long should you wait between messaging and meeting someone? Dating apps are a relatively new part of dating, and it's perfectly normal to be a bit intimidated by it all."
Fortunately, the "right" answers to those questions may be slightly different for everyone and part of the fun is getting creative with how you choose to present yourself. If you want to feel more confident on dating apps, here are some tips that can help put things into perspective.