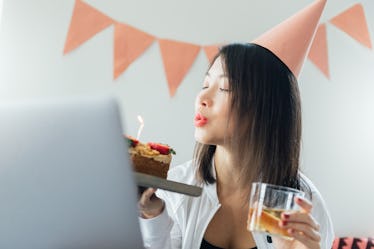 Play These Zodiac-Themed Games On Your Birthday To Celebrate In A Cosmic Way
Oscar Wong/Moment/Getty Images
Your love for learning more about your zodiac sign has never wavered. It's been a constant in your life and in your group chats where you send your BFFs their horoscopes every morning. That's why they've proposed playing some zodiac-themed games for your birthday and celebrating in the most cosmic way possible, even if you're gathering via Zoom.
Your besties know an astrology theme will speak to your start-studded soul and properly spring you into your next year of life. To bring your party to the next level, they'll likely send presents your way like a moon lamp, journal where you can keep track of the constellations, or celestial-looking bath bombs. In the background of their video screens, you may see glowing stars hung up on the wall, and maybe even pictures of the planets in your sign right now. You'll likely want to spend five minutes admiring all of the work they put into your birthday and making it feel otherworldly. Then, get the party started and dive into what you're so passionate about.
Without further ado, here are the eight games you should play with your crew on your birthday. Every single one can be done over FaceTime or Zoom and will make your celebration feel as cosmic as possible.